This post may contains affiliate links for your convenience. If you make a purchase after clicking a link we may earn a small commission but it won't cost you a penny more! Read our full disclosure policy here.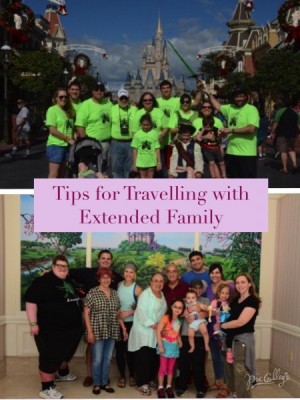 Thinking about going to Walt Disney World with your extended family?  In a span of six months, both my extended family and my husband's extended family took trips to Walt Disney World. In August, we took 18 folks (including two ECV carts and three strollers) with two first timers. In November, over Thanksgiving, we took thirteen folks (only one ECV, but four strollers this time) with four first timers. Needless to say, it was a little chaotic.
I have never traveled with such large groups before, and although it sounds painstakingly difficult, we found time to enjoy the trip and each other. Here are my best tips to make the most of your big family trip to Disney World.
Tip 1: PLAN EVERYTHING
From wake up times to snack breaks, planning the whole trip out on paper is helpful. With such a large group, it is handy to give everyone a paper itinerary (or an e-mailed version) prior to the trip so everyone knows what they are getting themselves into. On our last trip, the only things that were "must-dos" were meal times and FastPasses and everything else was a suggestion. Everyone was free to go as they pleased, but the FastPasses and meal times were pre-arranged.
On the topic of FastPasses, it was important to find out everyone's preferences before the trip. Who likes roller coasters, who doesn't mind spinning… these tidbits came in handy when creating the FastPass plan. So, when the thrill seekers were on 7 Dwarfs Mine Train, Grandma, and a few short people had FastPasses for Winnie the Pooh.
Tip 2: DON'T STICK TO THE PLAN
Even though I had poured HOURS into planning before the trip, there were some inevitable forces of nature that even I, master planner, couldn't predict. Sometimes, family members just want to move slowly and enjoy the shops in the hotel. Or take multiple bathroom breaks. Or ride the Teacups. I had to take a few deep breaths and "Let it Gooooo." (Ahhh, we were missing the fireworks!!). I finally came to the realization that if people were enjoying themselves, it was not "wasting time."
Tip 3: TALK TO CONCIERGE
Staying at a Disney Resort Hotel truly comes in handy when there are issues with FastPass and dining reservations. Talking to your friendly concierge can help with scheduling, and they can even switch times around for you if there is availability. One helpful hint is to ask for a printout of your FastPass reservations before you head to the park. That way, if your mobile device seems to be moving slow on park Wi-Fi, you have a paper copy!
Tip 4: MEMORY MAKER
Get Memory Maker! I know, it is a hefty price tag, but it is so worth it! As you explore the parks separately, you will get to see all of the pictures from your whole party during (with the updated Disney Parks App) the trip in real time! It helps to have all the photos in one spot after the trip if you intend to make a photo album. (Side note: Costco has a great photo book maker—the photo below has both of the Costco-made photo albums from our Memory Maker photos.)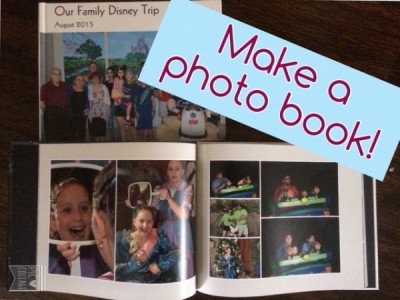 Tip 5: MEAL TOGETHER
Make sure to take the time to have at least one meal together. We found the best time for our families was mid-morning, around 11. This way, early birds could make it into a park for early magic hours or park opening, get on a few attractions and then meet the late awakeners for brunch/lunch. Character buffets were the best for our groups because the kids could eat as soon as we were seated and there were options for everyone (Did I mention we also travel with vegetarians?). Sometimes, dinner meals were planned, but with children on varied sleep schedules, it was rare that EVERYONE would make it to dinner time.
Overall, traveling with an extended family is a lot of work for the Disney Parks enthusiast. The biggest advice I have, though, is to remember that you are all there to enjoy the parks and enjoy being together. It may be a slower paced, not-get-on-all-the-rides kind of trip. AND THAT IS OKAY. Enjoy your family, and enjoy the memories you will all make together. Oh, and matching shirts are definitely a plus.
What are your best tips for traveling with extended family? Let us know in the comments!
Incoming search terms:
extended family vacation disney
https://www themouseforless com/blog_world/5-tips-extended-family-trip-disney/