This post may contains affiliate links for your convenience. If you make a purchase after clicking a link we may earn a small commission but it won't cost you a penny more! Read our full disclosure policy here.
On our first trip to Disney World, many moons ago, we were lucky enough to get a Free Dining Package. We had no idea what this meant or the value of it at the time. We were staying at a Moderate Resort, so we scored the Regular Dining Package. This gave us one table service, one quick service, and one snack per night for the length of our stay. Not only did it save us a bunch of money, but it also gave us the freedom to try out table service restaurants on property without the sticker shock. Here are five reasons why we love table service dining.
1.It forces us to slow down, relax, and interact with each other. The hustle and bustle of the parks is awesome, but it doesn't allow for a lot of reflection time. We spend some time, usually while waiting for our meal, to discuss our favorites of the day, what we haven't done yet, what we want to do next, etc. It also gives us some time to just enjoy each other. Life at home is busy. Life on vacation at Disney World can be even more hectic. Slow down over a good meal with good company.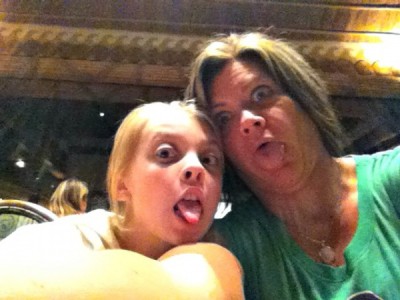 Time for some silly selfies at Ohana
2.  The experience is just downright awesome. Of course, there are places we return to nearly every trip and some that were a one and done, but the experience has always been delightful. The wait staff on property is second to none. They are attentive, interactive, and friendly. They are always knowledgeable about the menu. If there is a special request, they will go out of their way to accommodate your party. Much like the parks, the theming in the restaurants is very detailed. It truly is not just a meal; table service dining is an experience. You can even book meals that have characters present. They will come around to your table, take pictures, sign autographs, etc. It can be a great opportunity for some one on one interaction in a relaxed setting, rather than waiting to meet them in the parks.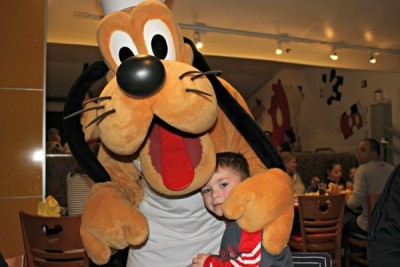 Meeting Pluto at Chef Mickey's
#3  Variety, variety, variety. There are restaurants that will suit everyone. From the pickiest of eaters to the most adventurous. From the tightest of budgets to those with money to burn. You can literally eat authentic cuisine from 11 different countries. It just takes a little research before making those Advance Dining Reservations. All menus, including prices, can be found online or on the My Disney Experience app.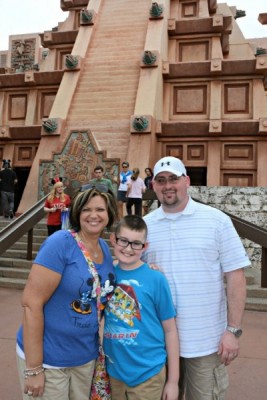 The Mexico Pavilion at Epcot
#4  It provides some much needed relief. Florida is hot. It can be downright miserable. What better way to recharge and prepare for the rest of the day than in the AC with a cold drink and some food for fuel? Many times we have been close to hitting "the wall", feeling like we couldn't take one more step. Then we sit down and eat. Something magical happens with a cool body and a full belly. Sure you can find some quick service venues that provide the same things, but table service dining gives you the opportunity to soak it all in for a bit longer to recharge.
#5  It gives us something to get excited about months before our trip. One of the tricks of table service dining is that you have to prepare. Some restaurants are so popular, that you have to book a reservation 180 days out from the first day of our trip. We love picking out where we are going and then locking in that reservation. It builds the anticipation even more!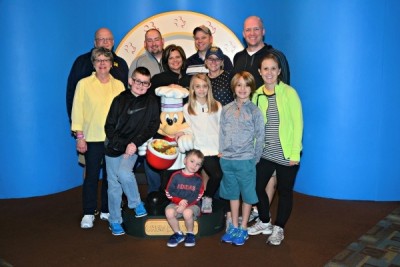 Book Advanced Dining Reservations as early as possible when accommodating large groups
Whether you choose to eat a table service meal multiple times during your trip or just a few, make sure that you try it out. We schedule one table service meal almost every day during our vacation. The value of time together and relaxation can't be beat!
Why do you love dining at Table Service meals why visiting Walt Disney World? Share in the comments.