This post may contains affiliate links for your convenience. If you make a purchase after clicking a link we may earn a small commission but it won't cost you a penny more! Read our full disclosure policy here.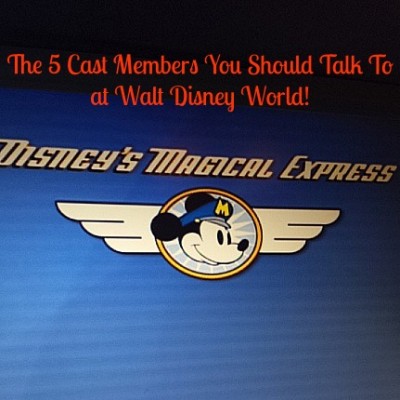 Meeting and interacting with characters at Walt Disney World is one of the highlights, no question (Have you met Gaston?!). However, characters are not the only personalities at Disney World worth spending time with. Walt Disney World cast members are fascinating people! Let's talk about who else you should have a conversation with while at The World.
Cast Member in the Disney College Program
The Disney College Program is an internship program that allows college students from around the globe to work and live on Disney property. They learn about leadership skills, take part in developmental classes, and get on the job experience from the Mouse himself! Take a moment and talk to a College Program participant; find out what school they go to and what they're hoping to learn from their time at Disney World. Have they been in the program for a week or 9 months? They'll have plenty to talk about, I assure you. You can read and learn more about the Disney College Program here.
Cast Member in Your Favorite Epcot Country
Part of what makes Epcot so magical is cast members work in their home countries. The non magical side of that means I'll never work at Rose & Crown, but I guess that's not the point. One of my favorite things to do is talk to the cast members in the UK because, as some of you know, I should've been born in London. Again, I digress. How do you start a conversation with a perfect stranger at Disney World? Mickey has made it very easy for you. Look at their name tag! There you will find the cast member's hometown and country. So it'll be very natural for you to say, "Colin! What part of London are you from?" and strike up a magical conversation filled with tales of Colin's hometown and why he decided to work so far from home at Walt Disney World. Plus there's the added bonus of listening to Colin's accent!
Your Servers
Chances are you won't spend more time with a Disney cast member than your server at your table service meal. Regardless of what restaurant you're in or where your server is from, you can spend a good amount of time talking about your trip, your family, the restaurant  you're in, and maybe get some insider Disney tips!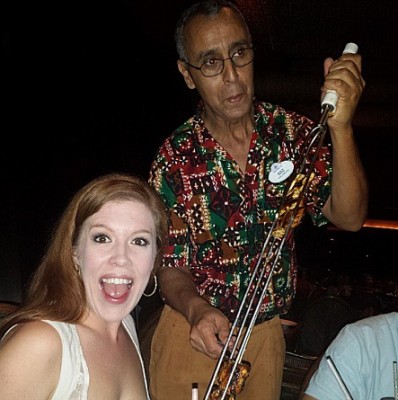 Aziz was our server at Ohana, where everyone is cousins! 
The Retired Cast Member
Raise your hand if you'd like to retire and go to Disney World every day! Well, that's exactly what these cast members decided to do (and yes, I'm as jealous as you are). So many people retire from the jobs they've worked at for years, only to move to Florida and get a job at Disney World driving a property bus, or working at a gift shop, or keeping Main Street clean! Grab one of these cast members and find out what they love most about working on property!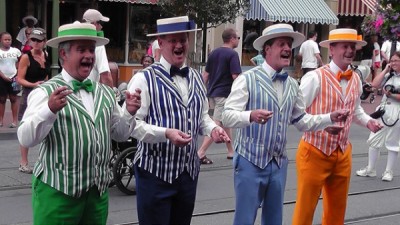 These guys are on my To Do List for the next time I'm on Main Street!
A PhotoPass Photographer
PhotoPass Photographers are, I think, some of the coolest people on property. One of the things that gets me so excited before a trip to The World is thinking about the awesome pictures we're going to get; especially now that we have Memory Maker. As concerned as I am about our pictures and how they're going to come out, a PhotoPass Photographer is even more concerned! Their job is to create amazing memories for you and your family and friends! And they've seen it all; the proposals, the family member/friend surprise arrival, the first meeting with Mickey Mouse. Next time you have the opportunity to speak to a PhotoPass Photographer for a few minutes, ask them about their favorite moment they've shot. It's a different level of magic.
So there you are! 5 non character personalities at Walt Disney World that you should spend some time with. If you're lucky, maybe you'll meet someone who can check 2 or more of these things off your list! Maybe Colin the server at Rose & Crown is also in the College Program. You won't know 'til you talk to him!
Who do you like to talk to while you're at Disney World? Leave your stories in the comments below!