This post may contains affiliate links for your convenience. If you make a purchase after clicking a link we may earn a small commission but it won't cost you a penny more! Read our full disclosure policy here.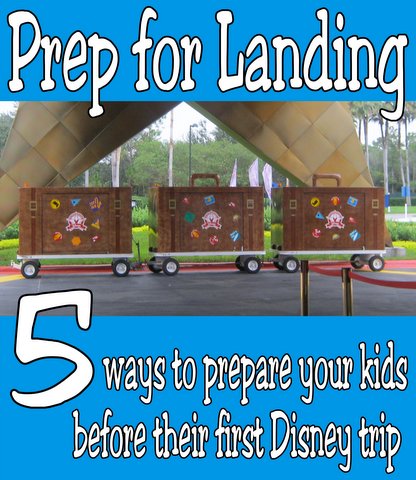 Hurray! You've decided the time is right to take your darlings to Disneyland or Walt Disney World. But then reality creeps in. Will my child have meltdowns every day? I'm afraid she will get lost! Will he hate all the rides — or Mickey Mouse himself? You can't use a magic wand to poof all of your trip troubles away, but you can work on minimizing them with these ways to prepare your kids for their first Disney trip.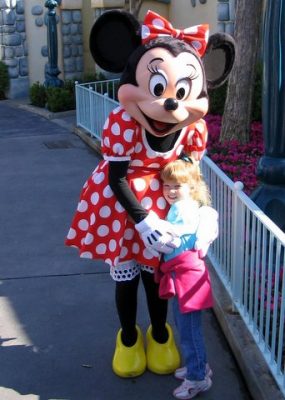 Characters
There used to be a TV commercial for the Disney Parks where a boy told his wide-eyed brother, "Goofy is 10 feet tall!" To a preschooler, this could describe how big a costumed character seems, even if it's one of their favorites. You might waste a lot of time waiting for a character only to have Junior diss Donald, or find character dining an expensive fiasco. Test out your child's character-tolerance well before you have the camera and autograph book poised for the perfect Mickey meeting.
At home: Meeting characters at Chuck E. Cheese, the kids' program at the local mall, birthday parties, or other public events may help you gauge whether your child has any interest in character meetings or fears them. If so, is your daughter OK with  "face characters" like a princess, or fearful of everyone in costume?
In the parks: With a shy child, watch characters from a distance first before committing to a long line. Have a positive experience with a favorite or smaller character before getting in line for an imposing villain. At character meals, seat your child on the far side of the table and let him go to the characters if he wants.  If characters see your child's reluctance, they would be happy to wave from a distance, or accept a high-five instead of a hug.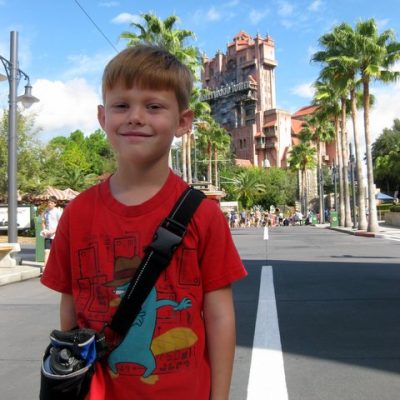 He faced his fears to ride Tower of terror, but only once
Rides
The rides at a Disney park can be thrilling or terrifying depending on your point of view. Being thrust into a dark, fast, unknown attraction could sour a first-time rider on trying other unfamiliar things.
At home: Try out different types of rides at a carnival or fair if possible. That's how we discovered that my youngest loves roller coasters but hates drop rides, even little carnival ones. You can imagine how he felt about the Tower of Terror! Some kids get nauseous from spinning — better to know that before boarding the Mad Tea Party! If you won't be able to try out rides in person, consider watching YouTube videos of some rides before you visit to blunt the fear factor.
In the parks: Start small – with outdoor rides where a child can see exactly what happens. For example, Dumbo could be a better choice than Peter Pan. Rides with favorite characters may feel more familiar to a child. Try out the the Barnstormer (Magic Kingdom) or the Gadget Coaster (Disneyland) and see if they love the feeling before taking them to Big Thunder Mountain. Don't spoil the day in the first hour by forcing a child on something that scares them.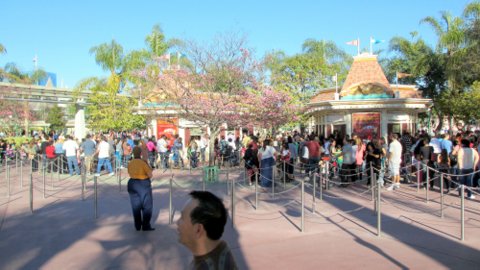 Waiting … and waiting … and waiting
Impatience knows no age limit, but for an excited child, the experience can be excruciating. Even during slow times, you'll wait for something — the parking tram, food, a show.
At home: Practice how to happily wait with your child — pick the longer line at the grocery store, arrive somewhere early, wait for food at a sit-down restaurant, let others go first. Find simple games or tricks to fill the time. We play a simple game we call "favorites" — your favorite dessert, character, color, teacher, and so on. Use the Internet to do a little research on line-avoidance before you travel — which rides get long lines, how to use FastPass, child swap. The few hours you spend thinking about this will definitely pay off in line. And load up a few Mickey cartoons, trivia games or apps on your phone, just in case.
In the parks: Use the skills you practiced at home and remind your child that waiting in line is "taking turns." Luckily, Disney provides a lot to see in the park, both in the lines themselves and from people-watching. Mix up the long waits with short lines and the chance to stretch and move a bit.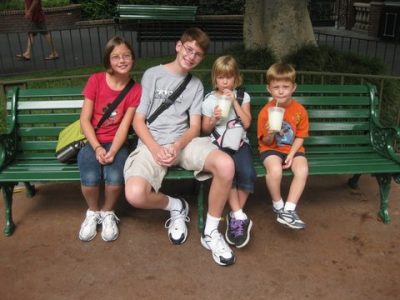 Walking
Along with waiting, a day at in a Disney park involves miles of walking and hours of standing. With children taking two or more steps for each one you take, it can rapidly tire them out and turn Happy into Grumpy.
At home: Walk, and walk, and walk — around your neighborhood, to the park, to school. Stretch their endurance and break in the sneakers. Consider whether bringing along (or renting) a stroller is a smart idea, even if your child has passed the age of using one at home.
In the parks: Move at your child's pace rather than racing from attraction to attraction. If you are starting to get footsore, chances are they are already there! Try not to criss-cross the park (or parkhop) too often, and resist the urge to squeeze in one more thing. Always take your cue from your children when they lose patience and need to eat or rest. Keep everyone well-hydrated.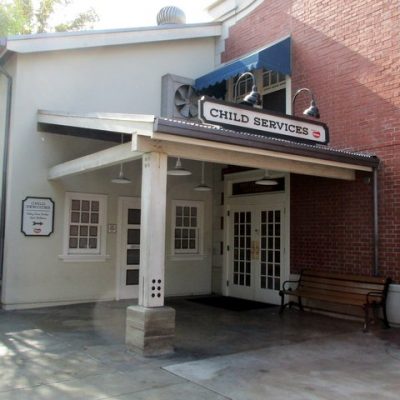 Child centers aren't always where you think they would be — California Adventure's is in the back, in Pacific Wharf
Safety
A crowded park and an excited child can combine into every parent's nightmare — a lost child. Pushing through crowds, stopping to look at something, or splitting up can all become prime opportunities for separation or miscommunication (I thought you had her!)
At home: Will he ride in a stroller? Will she hold your hand or should you consider a leash? Does he like to bolt? A lot of what you'll want to practice depends on your child and his temperament. Remind your little Stitch to look for an employee or a mother with children if he feels lost. Consider ordering a product like Safety Tat to identify your child if she does get separated.
In the parks: Take a photo of your child every morning — if he gets lost you'll have an instant picture of exactly how he's dressed. Put your child in bright colors to be easily spotted. Point out how big and crowded the park is and emphasize the need to follow your safety rules. Show your child what a Cast Member nametag looks like so she can get help if she needs. Remind kids of the safety skills you've practiced together at home. Note: this also applies to older kids — make sure they know your phone number and to never leave the park without you.
Whether your children just can't wait until your vacation or don't have a clue that you are going, you can work on all of  these ways to prepare your kids for their first Disney trip. A little practice now can make for a more magical visit. Maybe it will look like the Happiest Place on Earth in your photos and memories!
What tips and ways to prepare your kids for their first Disney trip do you have? Share them in the comments!
Did you like this article? Make sure to share it with your friends! Check below for easy ways to share!
Incoming search terms:
https://www themouseforless com/blog_world/5-ays-prepare-kids-first-disney-trip/