This post may contains affiliate links for your convenience. If you make a purchase after clicking a link we may earn a small commission but it won't cost you a penny more! Read our full disclosure policy here.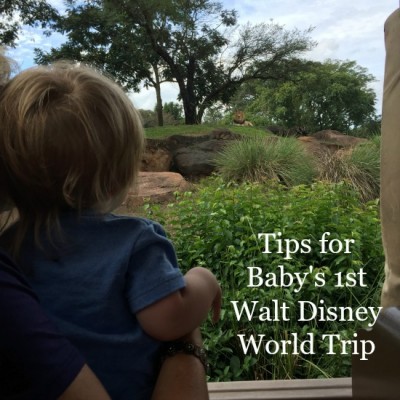 Planning for a Walt Disney World trip can be a daunting task – but bringing a baby along for their first trip adds even more complexity!  We took our son for his first trip when he was 9 and a half months old and had an amazing trip!  Below are my top 4 tips to make your baby's first Walt Disney World trip a success.
1. Try to keep things familiar
This is key to keeping everyone in a good mood throughout your trip!  Walt Disney World trips are hectic (at least for us!) so keeping everyone on their normal schedules is almost impossible – but at least try to keep things familiar.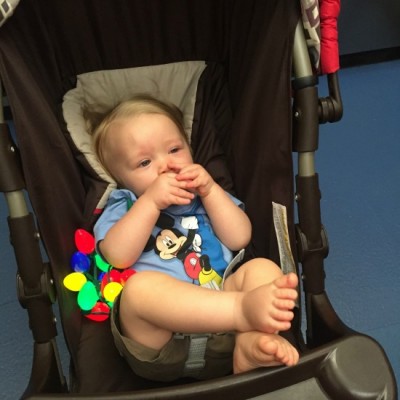 Kicked back waiting for our bus back to the resort.
On this trip we had a split stay at Animal Kingdom Lodge and Pop Century (neither of which is super convenient for midday naps) so, although it was a hassle, we brought our own stroller with us.  We knew our son napped well in this particular stroller (we have 3 others and he is not a fan of napping in those) so we lugged this stroller on the plane and on and off every bus but it was so worth it!  He definitely didn't nap as well as he does at home but he still got a pretty good nap in each day while we were at the park.
2. Use the Baby Care Centers
This was one of the biggest tips I read prior to our trip and everyone was so right!  I had never even noticed these in the parks prior to this trip but they were KEY during our trip.  Although they vary from park to park – the baby care centers typically have several full-size changing tables (probably big enough for a 3-4 year old), a feeding area for nursing mothers (not typically completely private – but it is women only), a feeding area for older kids (with high chairs and small tables), a tv playing Disney movies, a kitchen area for cleaning feeding supplies and a women's restroom.
My son was a particularly "distracted eater" at this age – meaning that if there was a lot of commotion going on around him he would much rather watch what was going on instead of eating.  So, in our situation, a quiet, cool place to feed him was a lifesaver.  The attendants at the centers were extremely helpful and made sure each area was promptly cleaned after someone used it.
3. Plan some special "firsts"
Obviously these "firsts" are mostly for the parents' enjoyment but adding a little extra pixie dust to your trip will make baby's first trip even more memorable!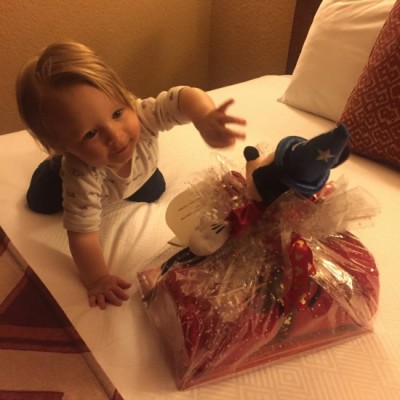 "My first Disney visit" package from Disney Floral and Gifts
On our arrival night we found some extra magic sent by our travel companions – our son's "first Disney visit" package was waiting in our room when we checked in!  This package included a plush Sorcerer Mickey, a personalized fleece blanket, an autograph book and pen, a set of personalized Mickey ears and some "firsts" cards for photos throughout the trip (my first Disney ride, my first Disney meltdown, etc.).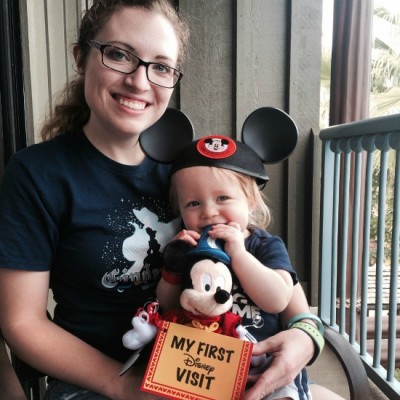 Enjoying his "first visit" gifts!
We also planned our son's first haircut during our trip (we were determined to do his actual first haircut at Disney and it was way past due by the time our trip came around – as you can tell in the picture above!) at the Harmony Barber Shop.  We called for reservations about 6 months in advance – reservations are not necessary, but cutting down time spent waiting is key with a baby!
Baby's first haircut at Harmony Barber Shop
This first haircut experience could not have been more perfect.  The barber (Michel) put stickers up and down our son's legs and gave me a light-up, spinning toy and that occupied him for the entire haircut!  You could tell that the barber does this all the time – the entire haircut took less than 10 minutes and it was perfect.  This is also one of the best deals on Disney property – $19 for the perfect first haircut experience, a set of "First Haircut" Mickey ears and a certificate of bravery!
4. Characters, characters, characters!
This may not work for every child – but my son's all time favorite part of our trip was meeting the characters.  We only planned one character meal because we were a little worried about how he would react but he loved them!  He spent every other meal looking around just waiting for a character to come visit him.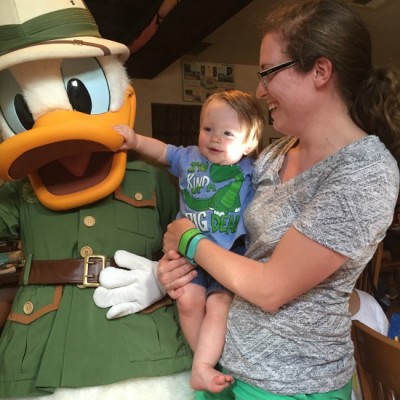 Nice to meet you, Donald!
At this age our son wasn't afraid of the characters at all, but every child is different.  So I would recommend at least one parent stay close during the interaction and ease into the first one slowly to gauge their reaction.  After we discovered how much our son loved the characters at Tusker House, we packed in as many more character stops in our trip as possible!
Finally, I just want to stress one thing: it is never too early to take your child on their first Walt Disney World trip!  While he won't remember this trip, we will remember it forever!
What are your tips for taking a baby on their first Walt Disney World trip? Share in the comments!
Incoming search terms:
babys first disney world trip