This post may contains affiliate links for your convenience. If you make a purchase after clicking a link we may earn a small commission but it won't cost you a penny more! Read our full disclosure policy here.
By Roye Ann Morris
Earlier this year, Disney announced another 24 hour event for Memorial Day Weekend, called Rock Your Disney Side. While I never need an excuse to go to Walt Disney World, the fact that my 14 year old son had been begging to attend one of the Magic Kingdom's 24 hour days for over a year had finally persuaded me that we should plan a trip for this year's event. The thought of staying up for 24 hours straight doesn't normally appeal to me, but if you are going to attempt it, Disney is certainly the place to try! I decided to dive in and make the drive to Disney.
I made our reservations to stay at Disney's Pop Century Resort, which is my son's favorite value hotel. I had originally planned to keep the trip a surprise, picking him up from school after his last exam, however, after I told both of his older brothers (who had work schedules that needed arranging), one of them accidentally let the cat out of the bag! In the end, it turned out for the best, as he was still surprised (just a day early), and was able to pack his own suitcase, as well as share the excitement with friends before we left.
We began our 13 hour drive right after school let out, but because of road delays, it ending up turning into a 15 hour trip. Once we finally arrived at Pop Century, the check-in process went smoothly and we received our Magic Bands. We finally got into bed at around 2:00 am.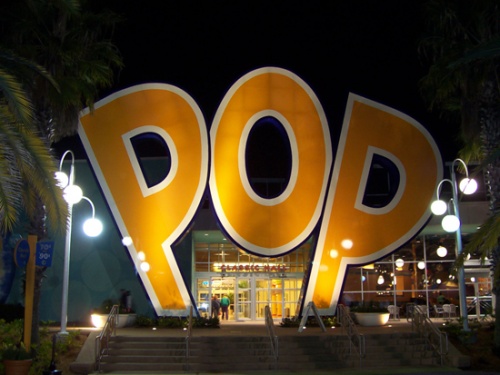 Initially, I had hoped to be at the Magic Kingdom by 8:00 am on May 23, but seeing as how we had an extremely late bedtime it didn't seem like the best idea. Instead, I let the boys sleep until 8 am and we made it to Magic Kingdom at around 9:30 am.
The line to enter the park was short, and we quickly scanned our Magic Bands at the turnstiles, where cast members were handing out special Maleficent buttons to promote the movie. The park was not very crowded and although I had made several FastPass+ reservations, we really didn't need them.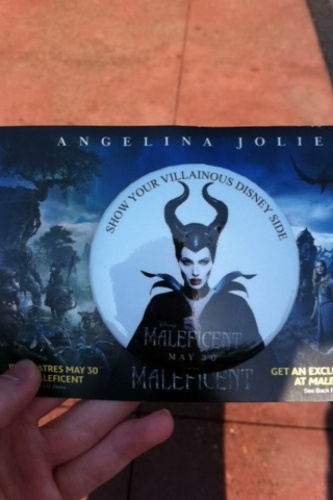 Our first stop was to walk through the Emporium on Main Street to check out the t-shirts that were available for the special day, and there were plenty of them available in all sizes. Next we headed for the Haunted Mansion, used our FastPass+ reservations for Big Thunder Mountain, then headed on into Fantasyland. To my surprise, the Seven Dwarves Mine Train was up and running! We talked about getting in the 55 minute line, but decided to keep our other FastPass+ reservations instead, deciding that we were going to try to ride it later that night.
After we finished the rides we had pre-scheduled, it was beginning to get very hot and crowded. We had late lunch reservations scheduled for Kona Café in the Polynesian, so we took the monorail over and enjoyed a wonderful lunch in the air conditioning! The boys and I were starting to feel the effects of the heat and the lack of sleep, so we decided to head back to Pop Century for a nap. We left our car at the Transportation and Ticket Center and took the bus so that we would not have to look for parking when we returned later in the evening. Everyone else seemed to have the same idea; the line for the bus to Pop Century was probably the longest one we waited in the whole day! All three boys ended up sleeping till around 7:00 pm and felt ready to attack the park again.
I had read other reviews from last year about what a bottleneck Main Street had been after the parades and fireworks, so when we got to the park around 9:30 pm, we decided to take the train to Frontierland to avoid the likely bottleneck. Looking out from the train platform before we boarded, all you could see was a solid mass of people. I was so glad we decided not to try walking down Main Street.
The back of the park was not terribly crowded, but there were certainly plenty of people! We rode a few attractions, then had a very late supper at Cosmic Ray's in Tomorrowland. We kept checking back at the Seven Dwarves coaster, but the line continued to grow longer. By this time in the evening, most of the attractions were walk-ons. Space Mountain had a long wait listed, but we happened to arrive just as it was being brought back up after technical difficulties, so the boys were able to get right on. We took a ride around the Tomorrowland Transit Authority a couple of times, watching bits of The Incredibles, which was being shown continuously on the big screen at the Rockettower Plaza Stage. We actually saw a lot of people taking advantage of the movie, lying on blankets or towels attempting to take a short break or nap!
By about 4:00 am, we had ridden every attraction we had wanted to and were starting to get hungry again. The boys thought that cinnamon rolls sounded good, so we headed back to Gaston's Tavern, where we split one 4 ways, and had a Coke for a little caffeine boost to help us finish out the day! When we were done, it was about an hour before the park was to close at 6:00 AM. We checked the Mine Train one last time; the wait was listed as 115 minutes! So, sadly, we did not get to ride. I think I was more disappointed than the boys! Lesson learned – with a new ride, in spite of the wait, get in line early and just do it!
The boys and I started heading toward the front of the park around 5:00 am. We stopped to watch several of the dance parties going on, and were surprised by how empty the park felt. Although we all felt fairly fresh, the boys decided that the best idea was to head to the exit before the crowd decided to. We rode an almost empty ferry back to the TTC, and climbed in our car, tired but happy that we had made it through the night. The sun was just peeking over the horizon when we got back to our room.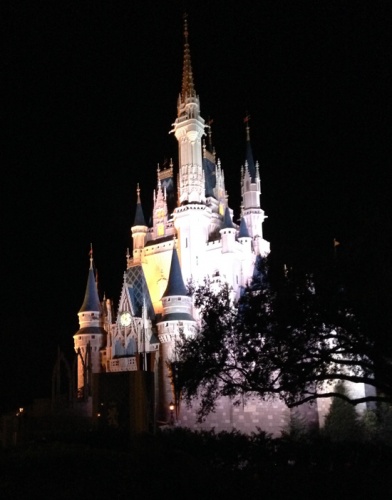 The big question is, would we do it again? Yes, however, I would make a few changes. I would try to plan a day between the drive and the 24 hour day at Disney. This year, our school schedules made that impossible, however, having that extra day for a little extra rest seems imperative. I also might reconsider if the temperatures are forecasted to be in the nineties, as they were for this trip. The heat and the lack of sleep made it necessary to spend more time in the room than we otherwise would have. And finally, and this is a tip that isn't necessarily geared toward a 24 hour party, but if a new ride has appeared to have opened early, ride it the first chance you get!
All in all, it was a great trip, and I think it will be a special memory for all three of my sons.