This post may contains affiliate links for your convenience. If you make a purchase after clicking a link we may earn a small commission but it won't cost you a penny more! Read our full disclosure policy here.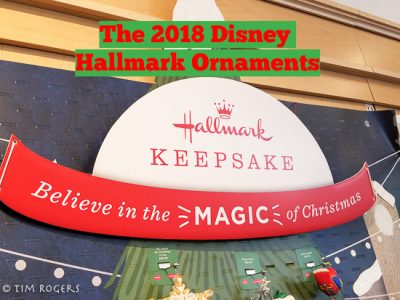 As my very understanding neighbors (and wife) will tell you, I love Christmas. One of the longest running and most expansive iterations of this is my love of Christmas ornaments. Naturally, I can't go on a Disney trip without checking out the Christmas stores and coming home with at least one, but I also help feed my dueling addictions through Hallmark and their great selection of Disney ornaments.
And as a good Christmas ornament aficionado, I happen to know that the Hallmark premiere occurs every year in mid-July, so I decided to do my own "Christmas in July" and went down on the first day to check out the great selection of Disney ornaments this year.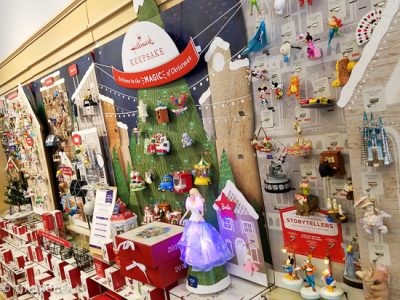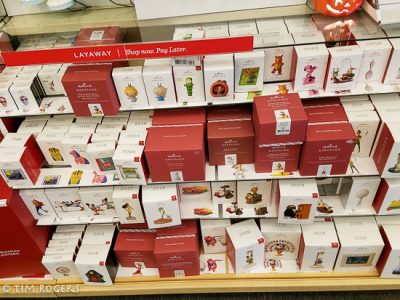 While I haven't gone back and specifically looked at previous years, it felt this year that there were a ton of Disney related options, and especially some that you don't normally see. I have them loosely broken down into categories.
Mickey and Friends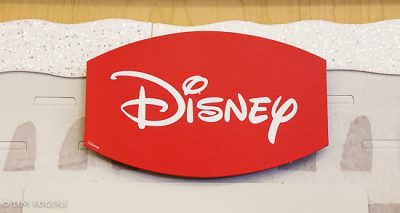 We all know that it started with a Mouse, so that's where I will start. Mickey is never hard to find in ornament form, but there are some fun options this year. First, Hallmark always has some sort of series of characters that interact with each other, and this year is is Mickey based!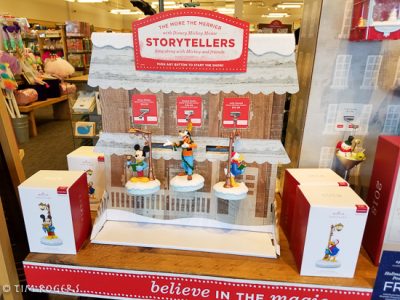 Each of the ornaments in this set has a button to start some song that the others join in on. They are released at different times during the season, so you might have to head back a few times to get them all.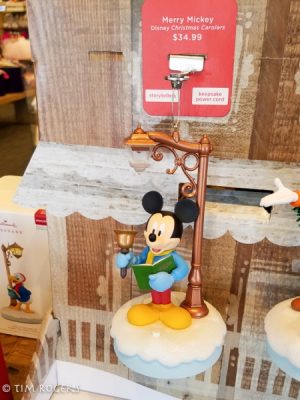 While Mickey and Goofy usually have some ornaments every year, Donald is not always present at Hallmark, but he has a role in this set.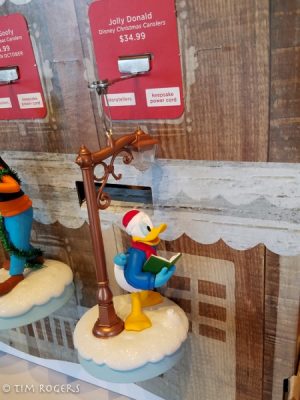 They light up as well!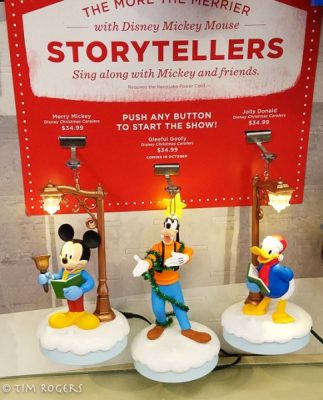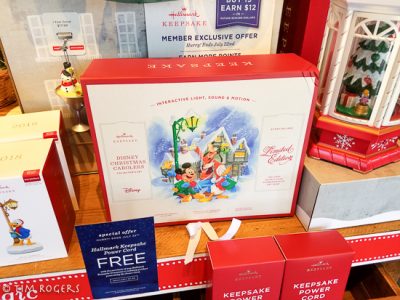 Speaking of Goofy, he also has his own, this time a Cupid inspired look.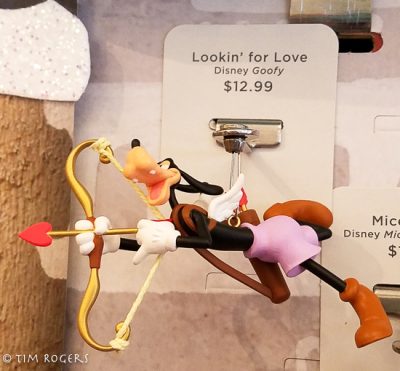 Mickey himself has a few others, starting with two older style ones, including Steamboat Willie.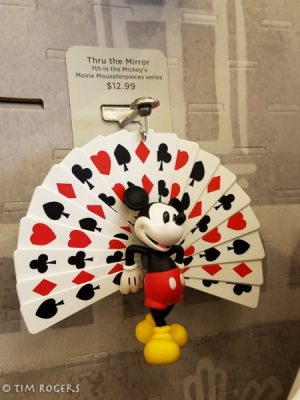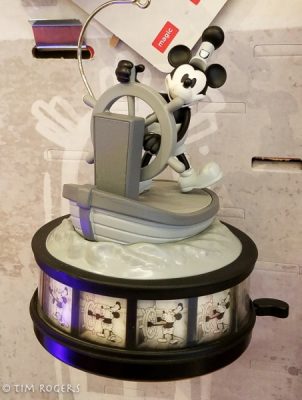 Mickey also has a super cute pair with Minnie (who then also has her own feature).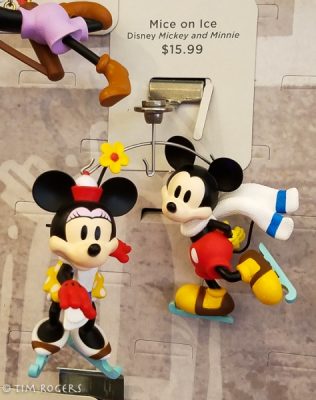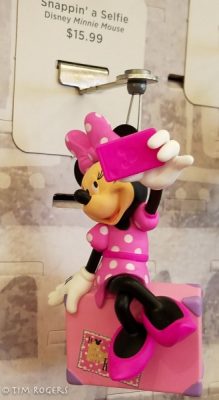 The last Mickey ornament is one of my favorites. I always love the Sorcerer Mickey look, and as part of one of the "premium" collection this year, they have a really cool looking rendition.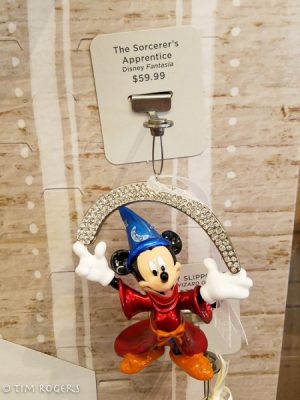 As you might see, this series is very expensive (more on that later) but also special and fun.
Other Disney Characters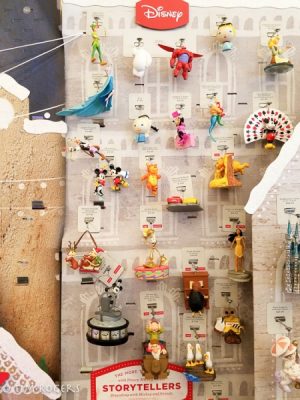 For me, I think this category might be the most surprisingly broad array of any this year. There is a great variety and number, and you are bound to fall for at least one.
First, the Princesses, and first among Princesses is Snow White.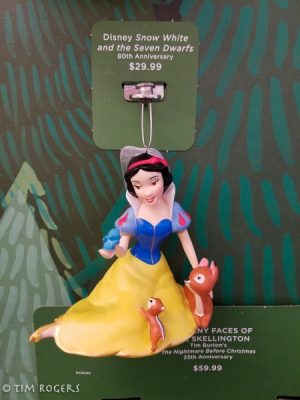 Next, we have a couple Cinderella ornaments this year. Including an early one, a stylized one, and a really nice one with Prince Charming.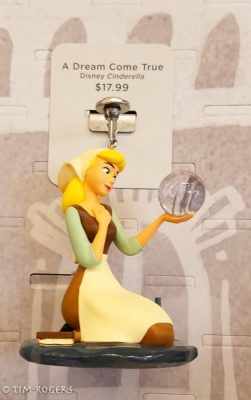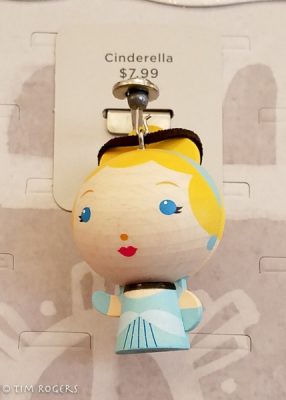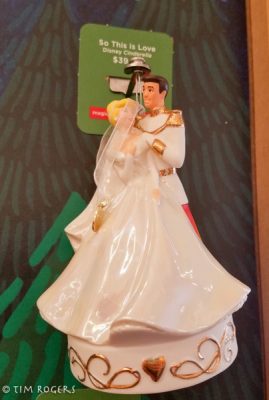 Hitting up some of the first Disney Animation renaissance we have Ariel (and dad), Belle, and Pocahontas.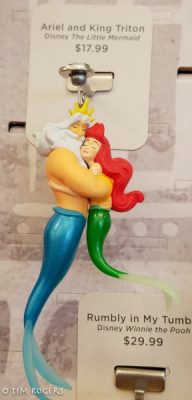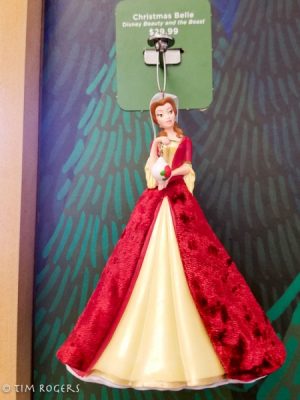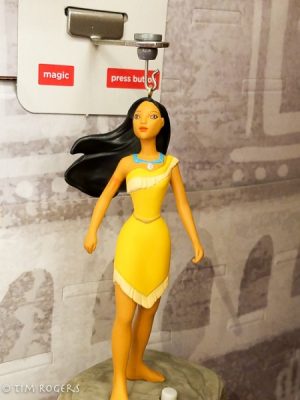 Aligned with the princess movement (even though she's a queen) we have two Elsa ornaments this year.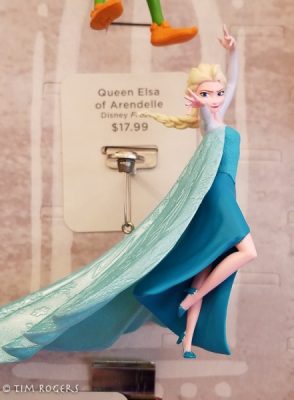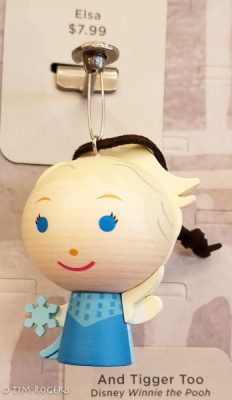 Moving on from princesses, Hallmark has a wide range of other Disney characters. From the early days there is Pinocchio and Dumbo (with mom).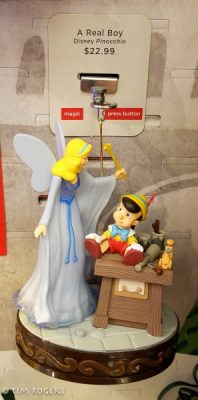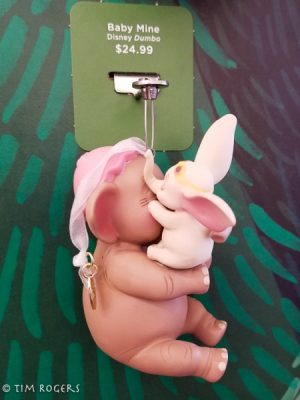 On the theme of classic characters, they also have Peter Pan (with Tinker Bell), Mary Poppins (in the Precious Moments style),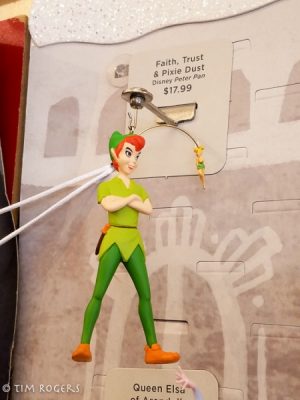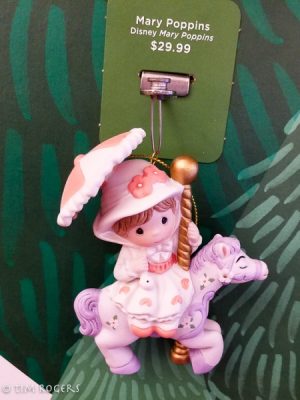 And there is even more – we have a super cute Chip and Dale ornament, Lumiere inviting you to "Be Our Guest," and two different, completely adorable, Winnie the Poohs.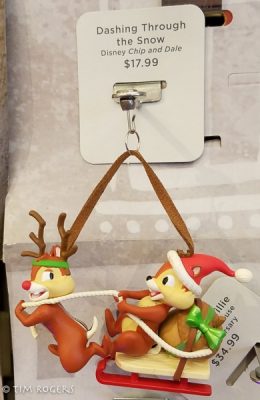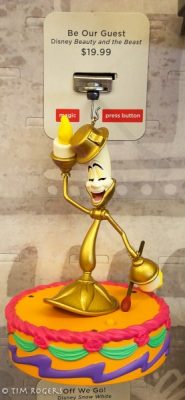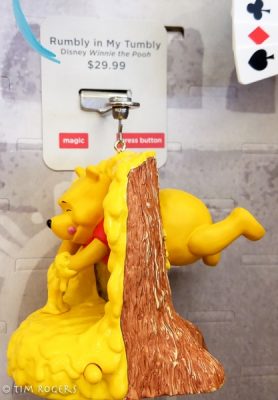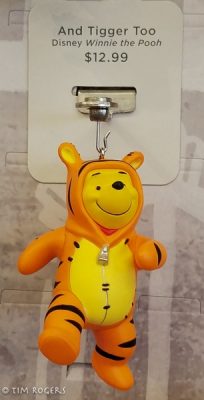 In the much more recent era of Disney, they have a two part Baymax ornament.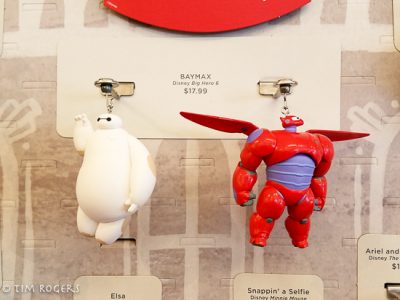 The last ornament that fits in this category is my favorite, because I love all things Grumpy. This year the ornament also includes Dopey but is a fun design.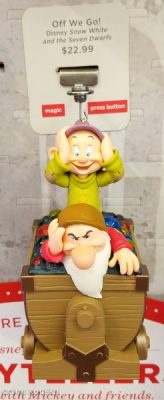 Pixar, the Muppets, Marvel, and More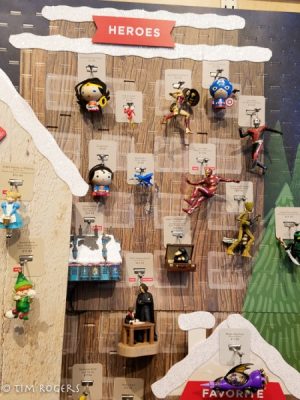 As Disney has collected companies, we can consider more and more of our favorites to be Disney-connected somehow. First, Pixar – to my delight this year's Pixar ornaments are not the most obvious choices. You have a 10th anniversary Wall-E, Lightning and Cruz, and, most hilariously, the seagulls from Finding Nemo.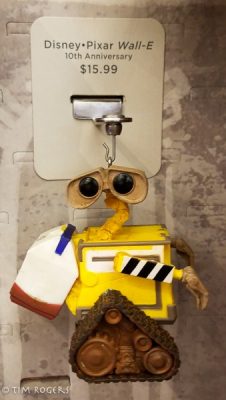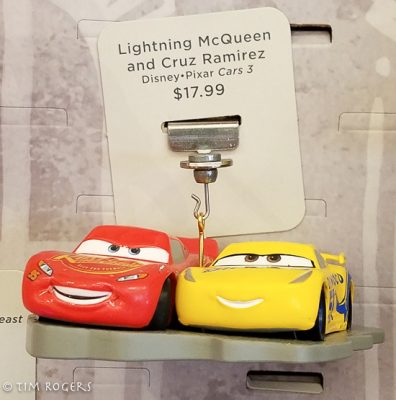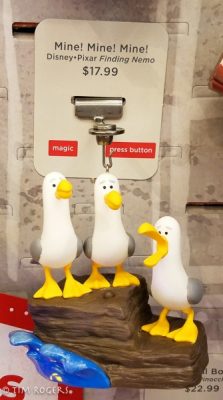 Marvel only has a few this year, but the hit the high points of the year, with Iron Man, Ant Man, and Groot. There are also ornaments coming out later for Black Panther and Wasp, as well as some for Spider-Man and Captain America that my store did not have.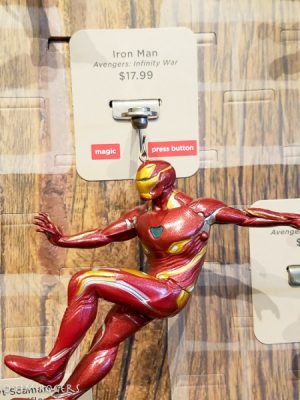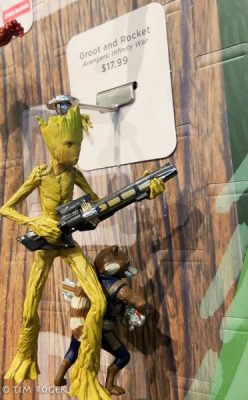 Hallmark traditionally has some Muppet representation, and I was super excited to see this year (and for the first time I can remember) Rowlf, at the piano and everything. Rowlf has always been one of my favorites (piano player solidarity) but he doesn't get as much merchandise love as some of the others, so this was a great surprise.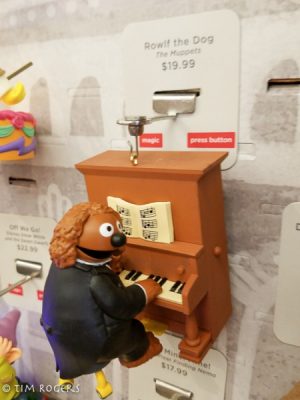 In this overall category, the other main offering is a tribute to the many scares of Jack Skellington(the first of several Nightmare Before Christmas ornaments coming out this year).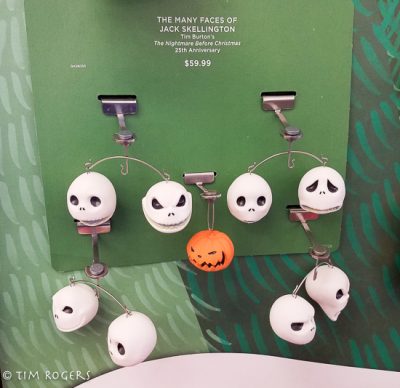 Star Wars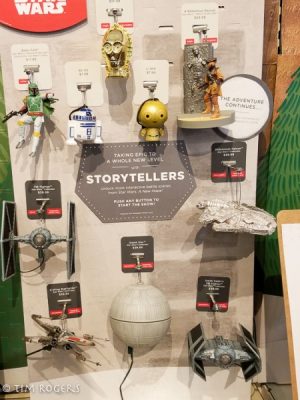 Can't wait for Galaxy's Edge to open? You can bide your time by creating an entire Star Wars tree just from this year's ornaments. That isn't a joke, there are that many. Let's start with just the ships.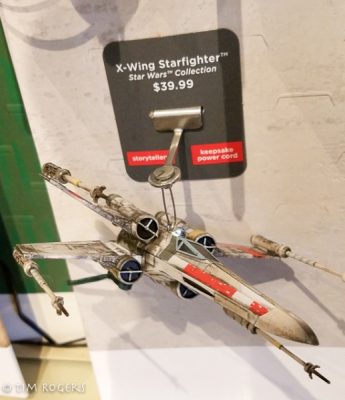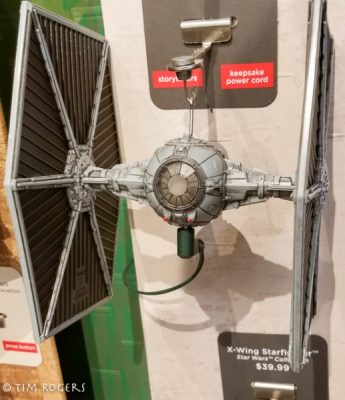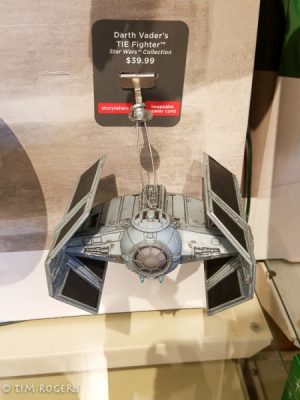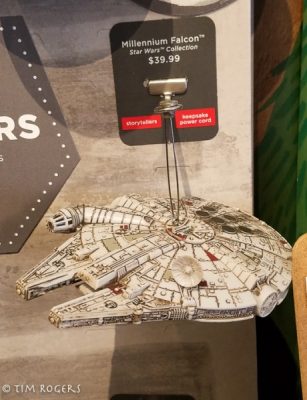 If you look at the intro picture for scale, these ships are pretty big as far as ornaments go. There is also a Death Star ornament (and another tree topper).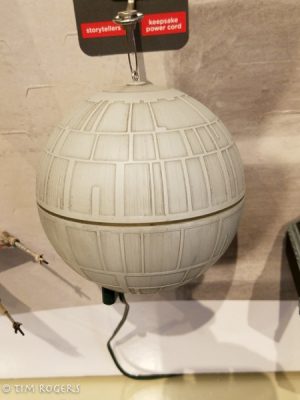 You then have a great subset of characters from across many of the movies, but especially the original trilogy. Here is a sampling: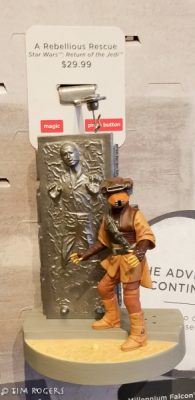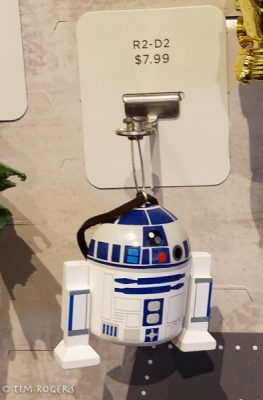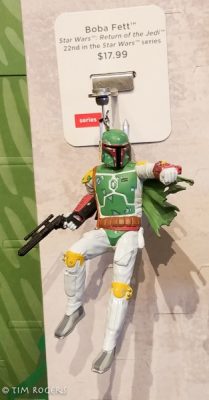 After you outfit your Star Wars tree with all of these ornaments you might think to yourself "self, I need to get a Star Wars tree skirt." Well, Hallmark has you covered there as well.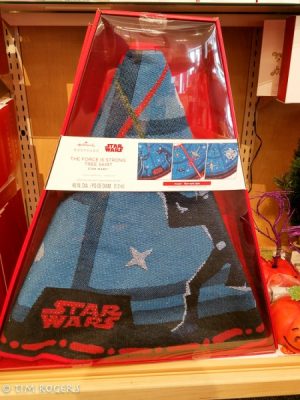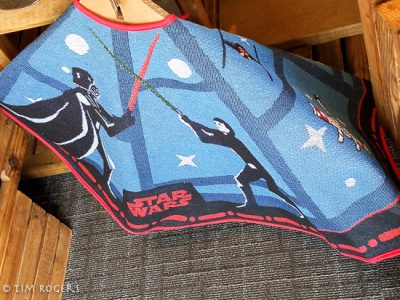 Harry Potter
Okay, okay. I know it isn't Disney, but as a theme park fan (and proud Ravenclaw) I have to include the Harry Potter selections.
Hallmark almost always has a scene from one of the movies, and this time we get to see part of a potions lesson.
Sticking with the main Harry Potter story, they have a super-Christmasy Honeydukes ornament.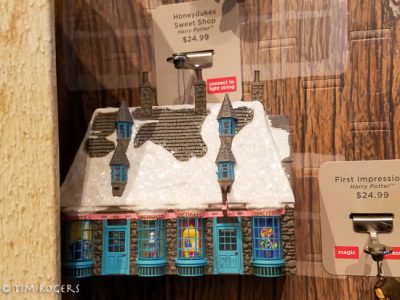 Lastly, one of the standout comic relief contributors for Fantastic Beasts and Where to Find Them, was the adorable kleptomaniac Niffler. If you get this one, hide your shiny objects.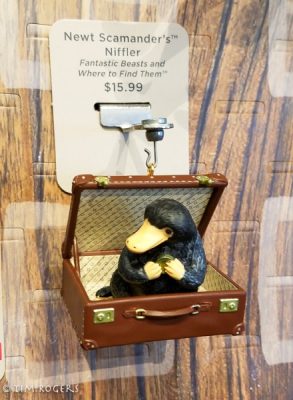 Besides all of these, there are still many more that will be released later. I mentioned a few of those, but as we get closer to Christmas you will see additions from Alice in Wonderland, the Incredibles, Wreck it Ralph, Coco, Mulan, and even one of the Partner's Statue just to name a few. Like I said, this is a great year for Disney fans at Hallmark.
But to close, I wanted to share one final ornament from this year, one of my favorites, that is also the highlight of the premium collection – Cinderella Castle.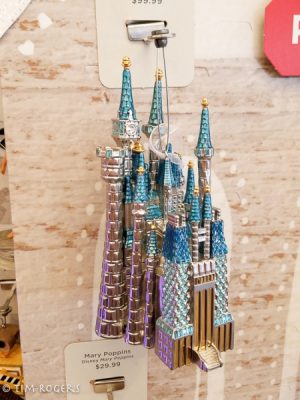 Any Disney fan who also likes their keepsakes shiny will be drawn straight to this one the moment they see it. For a great year of Disney ornaments, some of the most unique and special ornaments they have ever made are on top of the enormous volume of great choices this year.
While it might be hot outside, you should go mentally to December as you physically go to Hallmark and check them out for yourself. Merry Christmas!
Which ornaments are you going to get this year?  Share your thoughts in the comments, or on Facebook or Twitter.
Did you like this article? Make sure to share it with your friends! Check below for easy ways to share!
Incoming search terms:
https://www themouseforless com/blog_world/2018-disney-hallmark-ornaments/