Delicious Disney Dishes – Burnt Ends Brisket Hash
|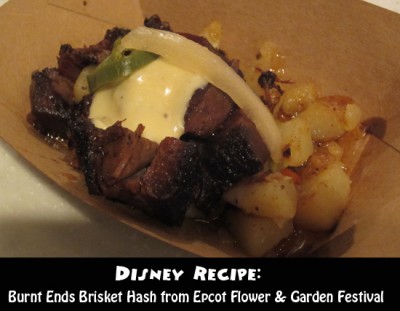 It's time! The Epcot Flower and Garden Festival is here! The event kicked off today in what will be a 90 day extravaganza lasting all the way until May 30! It's a wonderful event where you can learn gardening tips, get in touch with nature, and yes, eat delicious seasonal, fresh dishes.
That's where today's recipe comes from. It's the Burnt Ends Brisket Hash that can be found at The Smokehouse right outside the American Adventure Pavilion! It's a very flavorful dish that you're gonna want to make at home. Trust me!
Burnt Ends Brisket Hash
The Smokehouse – Epcot Flower and Garden Festival
Pickled Jalapeño Peppers
1/2 cup thinly sliced white onion
1 cup sliced jalapeño peppers
1 cup white vinegar
3/4 cup water
3 tablespoons sugar
1 tablespoon salt
1 tablespoon black peppercorns
1 dried bay leaf
1 clove garlic
1 teaspoon coriander seeds
White Cheddar Cheese Fondue
1 tablespoon butter
1/4 cup diced onions
1 tablespoon all-purpose flour
1 1/2 cups heavy cream
1/4 teaspoon salt
1/8 teaspoon ground white pepper
1/8 teaspoon nutmeg
1/8 teaspoon hot sauce
1 cup shredded aged white cheddar cheese
1/2 cup shredded mozzarella cheese
2 tablespoons diced jalapeño pepper
Burnt Ends Brisket Hash
1 tablespoon canola oil
1 medium white potato, diced
1/2 cup diced white onion
1/4 cup diced celery
1/4 cup diced poblano peppers
2 tablespoons diced jalapeño peppers
3 cups cubed smoked beef brisket
1/2 teaspoon salt
1/2 teaspoon black pepper
For pickled jalapeno:
Place sliced onions and jalapeños in a medium-sized bowl.
Combine white vinegar, water, sugar, salt, black peppercorns, bay leaf, garlic, and coriander in a small saucepan.
Cook over high heat until mixture boils.
Pour brine over onions and jalapeños.
Cover and refrigerate at least 24 hours.
For white cheddar cheese fondue:
Melt butter in medium saucepan over medium heat.
Add onion and sauté 5-8 minutes, or until onions are translucent.
Add flour, stirring constantly, for 3-5 minutes. Do not allow mixture to brown.
Add cream, salt, white pepper and nutmeg.
Cook over medium heat, stirring constantly, 5 minutes, or until simmering.
Reduce heat to low and simmer, stirring occasionally, 20-25 minutes, until mixture is thick and coats the back of a spoon.
Add hot sauce.
Slowly add cheese, stirring constantly, 3-5 minutes, until cheese melts and is creamy.
Add diced jalapeño peppers.
Keep warm until ready to serve.
For burnt ends brisket hash:
Heat canola oil in a large sauté pan over medium for 5 minutes, or until oil is shimmering.
Carefully add potatoes.
Cook potatoes over medium heat, stirring occasionally, 6-8 minutes, until potatoes are golden and cooked through.
Add remaining vegetables and brisket.
Cook 3-5 minutes, until softened.
Season with salt and pepper.
To serve:
Evenly divide burnt ends brisket hash among plates. Top with white cheddar cheese fondue. Garnish with pickled jalapeño peppers.
Happy Cooking!