Delicious Disney Recipe: Lentil Salad from Sunshine Seasons
|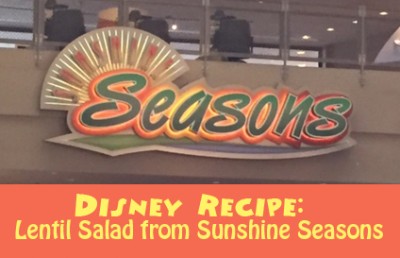 Sunshine Seasons found in The Land Pavilion at Epcot is a fan favorite because it offers a lot of unique options that most people don't often think can be enjoyed in a theme park. Items include things like rotisserie chicken, Asian Shrimp Stir Fry, and more. Such is the case with today's recipe. I'm sharing how to make the yummy Lentil Salad! I hope you enjoy!
Lentil Salad
Sunshine Seasons – The Land Pavilion in Epcot
Ingredients:
1 pound lentils
¼ cup olive oil
1 cup chopped zucchini
1 cup chopped squash
½ cup chopped red bell pepper
½ cup chopped Portobello mushroom
1 cup small red diced onion
½ cup olive oil
1 cup red wine vinegar
1 tablespoon chopped parsley
Kosher salt to taste
black pepper to taste
Method of Preparation
1. Place lentils in a saucepan with water to cover the lentils.
2.  Drain and cool.
3. In pan, add olive oil.
4. Grill zucchini, squash, red bell pepper and mushrooms.
5.  Let cool.
6. In a bowl, add lentils and grilled vegetables.
7. Mix the olive oil and vinegar and add to lentil mixture.
8. Add diced onions.
9. Season with salt and pepper.
10. Store in refrigerator in air-tight container.
Happy Cooking!