Delicious Disney Dishes – Sweet Potato Pancakes from The Wave
|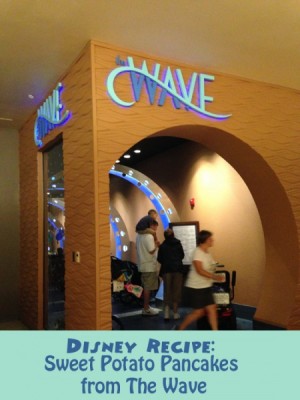 I'm in the mood for a good breakfast dish today! So what better breakfast dish than pancakes. But you had to know I wouldn't be sharing the recipe for just any old pancakes.  No, no.  Instead, today we are headed to Disney's Contemporary Resort for The Wave for their delicious Sweet Potato Pancakes with Pecan-Honey Butter. Oh…I'm salivating just thinking about it!
Sweet Potato Pancakes with Pecan-Honey Butter
Pancakes
2 1/4 cups all-purpose flour
3 teaspoons baking powder
1/4 teaspoon ground cinnamon
1/4 teaspoon ground nutmeg
1/4 teaspoon salt
1 1/2 cups milk
1 1/4 cups brown sugar
3/4 cup cooked, mashed sweet potato (from about 1 small sweet potato)
3 large eggs
3 tablespoons vegetable oil
1 teaspoon vanilla extract
Pecan-Honey Butter
1 stick butter, room temperature
1/4 cup honey
1/4 cup chopped toasted pecans
For pancakes:
Preheat oven to 225°F.
Sift flour into a large bowl.
Add baking powder, cinnamon, nutmeg and salt and whisk until combined.
Combine milk, brown sugar, sweet potato, eggs, vegetable oil and vanilla extract in a large bowl and whisk until well blended.
Add milk mixture to flour mixture and stir until just blended.
Heat a nonstick griddle or skillet over medium-low heat until a few drops of water sizzle on the surface.
Spoon about 1/4 cup of batter per pancake onto skillet.
Cook on first side until tops bubble and sides look dry.
Flip and cook until golden brown, about 2 minutes additional.
Place cooked pancakes on a baking sheet and place into preheated oven to keep warm. Repeat process with remaining batter.
For pecan-honey butter:
Stir together butter, honey and pecans in a medium bowl.
Top pancakes with honey-pecan butter and serve immediately.
Happy Cooking!