Delicious Disney Dishes: The No Way Jose at Beaches and Cream
|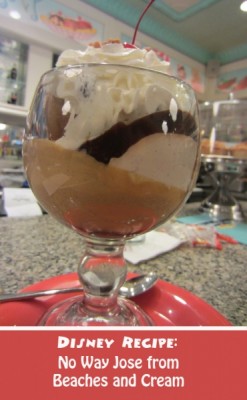 Whew…I have found an extremely difficult recipe to share with you today–the No Way Jose from Disney's Beach Club Resort's Beaches and Cream.
I mean there are quite a few hard to obtain ingredients here, and I'm going to tell you,  I've never seen a more complicated recipe. But I have faith in you, that you too can create this concoction at home!
No Way Jose Sundae
Beaches and Cream – Disney's Beach Club Resort
2 scoops Chocolate Ice Cream
2 scoops Vanilla Ice Cream
1/2 cup Smooth Peanut Butter
1/2 cup Hot Fudge Sauce
1-2 tablespoons Peanut Butter Morsels
1-2 tablespoons Chocolate Morsels
Aerosol Whipped Cream
Cherry
1.  Heat the peanut butter in the top part of a double boiler until it's liquid.
2.  Warm up the hot fudge sauce.
3.  Put a couple spoons of the hot fudge sauce and the peanut butter sauce at the bottom of the bowl or ice cream glass.
4.  Add the two scoops of chocolate ice cream and two scoops of vanilla ice cream.
5.  Add the peanut butter topping and more hot fudge.
6.  Top it off with aerosol Whipped Cream.
7.  Add some Peanut Butter and Chocolate Morsels.
8.  Place a maraschino cherry on.
In case you couldn't tell, I was just having some fun with you on April Fools!
This really is the recipe for the No Way Jose though and it's a fantastic treat that I must get every time I'm in Walt Disney World.  (And often make at home too!  I really am a sucker for peanut butter in my ice cream.) I hope you enjoy making it at home too!
Happy Cooking!
Incoming search terms:
beaches and cream disney no way jose
no way jose sundae
no way jose sundae disneyland