Delicious Disney Dishes: Oreo Bon Bons from Cape May Cafe
|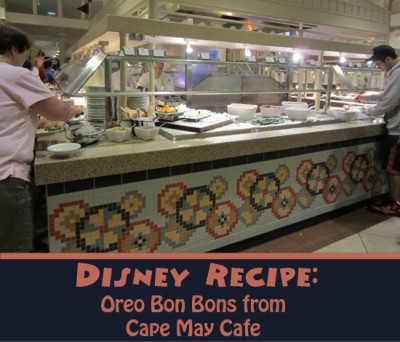 Cape May Cafe is famous for its seafood delights. I mean, you can smell the deliciousness in the evenings when you walk in the door of Disney's Beach Club Resort. But one of of the things that I found to be most incredible wasn't seafood at all! Instead, it was an Oreo Bon Bon dessert! I had to find the recipe and share it with you all too!
Oreo Bon Bons
Cape May Cafe Clam Bake – Disney's Beach Club Resort

For the mousse:
16 oz. heavy cream
6 egg yolks
16 oz. white chocolate
4 gelatin sheets or 2 tbs. powdered gelatin placed in 3 oz water
1 dozen Oreo Cookies (crumbled)
3 dozen Oreo Cookies (whole)
For the ganache:
16 oz. dark chocolate
16 oz. heavy cream
Directions:
1. Start with preparing the mousse. Melt chocolate.
2.  Whip heavy cream until consistency of ice cream.
3. Place gelatin in cold water.
4.  Heat egg yolks until warm; add chocolate, stirring constantly.
5.  Place gelatin in microwave until gelatin is dissolved.
6.  While gelatin is heating, add one third of heavy cream to the egg yolk and white chocolate mixture and mix well.
7.  Add a little of the cream to the heated gelatin and mix well.
8.  Add both the gelatin mixture and the chocolate mixture to the remaining whipped cream and fold until incorporated.
9.  Fold in crumbled cookies, mixing well.
10.  Let mousse set up, around 2-4 hours.
11. Then prepare the ganache by melting 16 oz. chocolate and 16 oz. of heavy cream over light heat, Over light heat, mixing until combined.
12.  To serve: Place 3 dozen Oreo cookies on a sheet pan.
13.  Pipe mousse onto cookies, and dip into ganache.
Happy Cooking!
Incoming search terms:
oreo ball reciepe Disney cape may