Delicious Disney Dishes – Macadamia-Pineapple Pancakes from Kona Cafe
|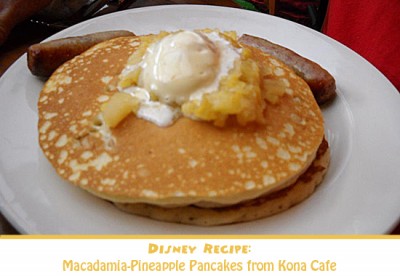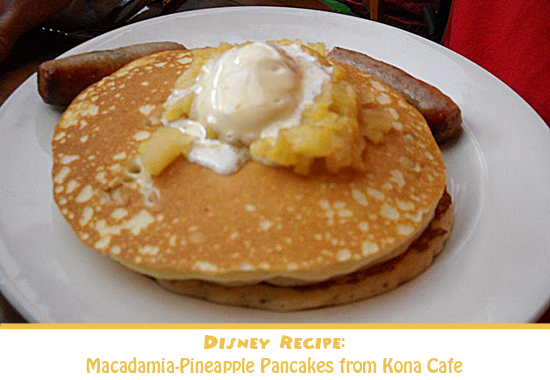 Did you know that yesterday was National Pancake Day? One of my husband and my favorite things to do is to head to IHOP on National Pancake Day for "free" pancakes. (Free with a donation to the Children's Miracle Network.)  I know it's silly, but it's become a tradition for us and something that we actually look forward to each year.
Given that it really is one of my favorite days each year, I decided that I would celebrate National Pancake Day a day late by sharing the recipe for some fantastic pancakes with you! I bring you the recipe for the Macadamia-Pineapple Pancakes from Kona Cafe!
Macadamia-Pineapple Pancakes with Macadamia Nut Butter
Kona Cafe – Disney's Polynesian Village Resort
Pancakes:
1 1/4 cups sugar
3 teaspoons baking powder
1/4 teaspoon salt
2 1/4 cups all-purpose flour
1 1/2 cups milk
3 eggs
6 tablespoons vegetable oil
1 teaspoon vanilla extract
1 can crushed pineapple
Directions:
Sift flour into a medium-sized bowl.
Add sugar, baking powder, and salt into bowl.
Add eggs, milk, vegetable oil, vanilla extract and beat until smooth.
Pre-heat a griddle or skillet on medium.
Once skillet is hot, pour 1/4 cup batter onto skillet and cook until bubbles form and sides look dry.
Flip over and cook pancake until golden brown.
Top with macadamia nut butter (see recipe below) and crushed pineapple.
 Macadamia Nut Butter:
One stick room temperature butter
1/4 cup honey
1/4 cup toasted macadamia nuts
Directions:
Combine butter, honey and macadamia nuts.
Add a dollop to the top of pancakes
Happy Cooking!
Incoming search terms:
pineapple macadamia nut pancake recipe
disney polanesian pancakes macadamia
kona cafe macadamia pineapple pancakes
pineapple macadamai pancakes