Delicious Disney Dishes: Apple Strudel from the Epcot Food and Wine Festival
|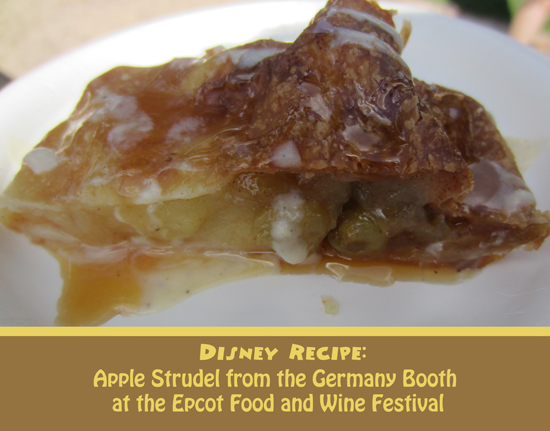 Mmmm….Epcot Food and Wine Festival. I love getting to try dishes from all around the world.  One of my favorite treats from year's past was the Apple Strudel, which could be found at the Germany Marketplace Booth. Unfortunately, this year, the dessert was replaced with the Berliner – a yeast doughnut filled with apricot jam. So, because I missed it this year, and because Fall is apple season, I decided I wanted to make this treat at home!  Of course, I wanted to share it with you too!
Apple Strudel
Germany Marketplace Booth – Epcot Food and Wine Festival
Ingredients:
3 medium Granny Smith apples, peeled and thinly sliced
1/4 cup raisins
4 tablespoons sugar
1/4 teaspoon ground cinnamon
4 tablespoons plain bread crumbs
8 ounces phyllo dough, thawed (about 20 sheets)
3/4 cup butter, melted
1 cup heavy cream, slightly whipped, optional

Directions:
1. Preheat oven to 400°F.
2. Mix apples, raisins, sugar, and cinnamon in a medium bowl and set aside.
3. Toast bread crumbs in a small sauté pan over medium heat. Stir until crumbs are golden brown, approximately 5 minutes. Transfer to a bowl and let cool.
4. Place a kitchen towel on a large work surface and spread one sheet of phyllo dough on the towel.
5. Lightly brush the entire surface with melted butter.
6. Layer another sheet on top, butter, and continue the process until all sheets are stacked.
7. Sprinkle the toasted bread crumbs along the longest side of the top sheet of buttered phyllo dough.
8. Spread apple mixture on top of the bread crumbs.
9. Roll the dough using the towel to help shape the dough, starting from the apple mixture side to the opposite end, making sure to keep the apple mixture inside.
10. Brush rolled dough with melted butter.
11. Place strudel on an ungreased baking sheet and bake approximately 25 to 30 minutes or until the dough is golden brown.
12. Once baked, let the pastry cool at room temperature for approximately 30 to 45 minutes.
13. Slice strudel with a serrated knife into equal-sized pieces and serve!
Happy Cooking!