Delicious Disney Dishes: 1900 Park Fare's Strawberry Soup
|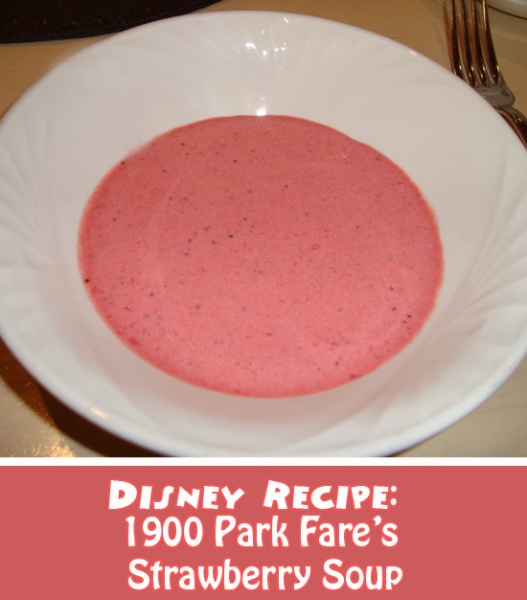 One of the best parts of the 1900 Park Fare meal is the famous Strawberry Soup. It is the most delicious thing. (Sure, getting to meet the characters at this restaurant is great too, but seriously, this soup, it is the real reason to visit.)  It's unlike anything you've likely had.
It's a chilled soup that actually tastes a lot like the remnants of when I make strawberries and whipped cream at home. (And looking at the ingredients now, I see why it would taste similar.) It is more like a dessert than something you eat as a main dish. Either way, it's amazingly delicious.
So, here's the recipe so that you can make it at home! Let me know if you'd rather enjoy it for an appetizer or a dessert.
Strawberry Soup
1900 Park Fare – Grand Floridian
2 lb., 8 oz. frozen strawberries (thawed with juice)
16 oz. heavy cream
2 oz. sour cream
3 oz. plain yogurt
8 oz. fresh strawberries
1. Mix thawed strawberries, heavy cream, sour cream, and yogurt.
2. Beat slowly until well mixed and a smooth consistency.
3. Chill
4. Shake well before serving.
5. Add fresh strawberries as garnish.
Happy Cooking!
Incoming search terms:
1900 park fare strawberry soup
dishes from 1900