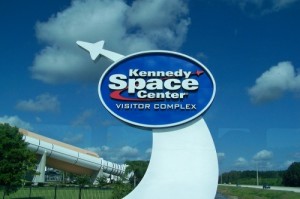 Looking for something to do in the land of tons of stuff to do?  Kennedy Space Center is great for a day away from the parks, or if you're going to stay on the coast for a few beach days.  This is located just north of Cocoa Beach, and just over an hour from the Walt Disney World area.
This summer I spent a few days in Cocoa Beach with my daughter and 7 of her classmates for their high school graduation/girls trip.  One day we headed to Kennedy Space Center to just see what it had to offer.  We had booked the Crew Wakeup Tour, which took off $10 if we booked a tour for before noon, which worked just fine since they wanted to get up there early.
Just as we approached the entrance, the girls were thrilled to see an alligator walking up the bank of a little pool of water.  Since usually you're lucky to see their head, they got a great view of one "in the wild".  When we got there we picked up our tickets at the will call window and went in to wait for our tour time.   The tour took us around the property so we could see some of the launch sites, a few were pretty close, some not.  We saw the building where they assemble the shuttles, the track they ride on the crawler from the assembly area to the launch pad and the runway where they land.
After the tour they dropped us off at the Apollo/Saturn V Center where we saw the different stages of a rocket as well as the vehicle the astronauts ride in on their way to the rocket.  There was a space suit and other articles from different astronauts.  They also had a snack bar and of course the gift shop.
From there we took a bus back to the main entrance where there are several shows and exhibits to see.  They have an astronaut that speaks daily so we went to that.  We saw Roger Crouch, whose main message was to never give up!  He'd always wanted to be an astronaut, but there were issues that it never worked out for him and they kept denying his application.  He just kept sending them in, though, and was finally accepted at the age of 57.  Even though he only went on one mission, he was thrilled to finally realize his dream.  And he's lucky enough to not only have his dream, but to get to relive it with guests that come to hear him speak.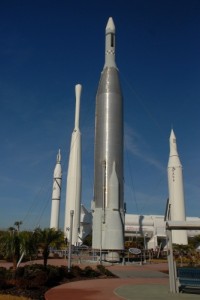 Rocket garden
Similar Posts: