This post may contains affiliate links for your convenience. If you make a purchase after clicking a link we may earn a small commission but it won't cost you a penny more! Read our full disclosure policy here.
Transatlantic Cruise on the Disney Magic May 2011 – Day 5 (3rd of 6 days at sea with NO LAND IN SITE)
Cast of characters:
Mic from The Magic for Less Travel
Missy, from The Mouse for Less and of Minnesota mom's runaway to WDW fame, one of Mic's BFF's
Ross, Missy's darling husband (aka DH)
Still no mutiny, Peter the Cruise Director is keeping everyone tranquil with a combination of many activities and a steady supply of nap inducing food and alcohol.  (Mic here, that's what is causing all the naps!!!)
Day 5 was a late start for all including me – I woke up at 8:30 instead of my usual 6:30/7:00.  The ladies slept in another hour or so.  We broke up our routine a little – Parrot Cay for a breakfast brunch.  As always, awesome service and awesome food!  Our initial waiter was bit stand-offish (aka "Shy-Guy"), but he was soon replaced by another who was very funny – soon had Missy and Mic out of the morning grumpies and smiling away.  Food was normal Disney Cruise line fare (much better than average).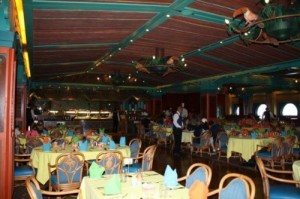 The weather has been wonderful for an Atlantic crossing – about 75 degrees, sunny and it feels like we are crossing a lake instead of the stormy ocean.  The seas are very calm with just steady swells to rock the boat gently.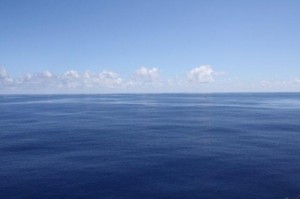 Tonight's show was Once Upon a Song, a variety-type show with three male/two female singers singing a variety of Disney songs.  I thought it was pretty good – each of them were very good performers, although the harmonizing needed a little work.  Others gave it a more critical eye.  Saying the choreography and lack of singing complete songs, choosing the short compilation type of style was disappointing – preferring full songs.  Like I said though, I liked it.  However, I am a softy and am easy to entertain.   (Mic here, this was a show I am ambivalent about, could take it or leave it, will probably leave it in the future).
Tonight was Palo night for Missy and me!  After the show we got into our fancy duds and headed to the aft deck 10.  We got there a bit early, but were seated right away anyway.  We were able to get a table in the back by the windows – a perfect sun-set watching seat.  Within a few minutes Mother Nature gave us a great show that only being in the middle of the Atlantic can give you….very cool!  Soon our waiter (Mladen from Serbia) came over to give us the low down.  Very descriptive and helpful, he made some great recommendations for dinner:  Calamari and Shrimp for an appetizer; Lamb Chops and Beef Tenderloin for an entrée.  He came over with an anti-pasti cart, proceeded to put a plate together and we were off!  It was a fantastic meal – very old school service, attentive and informative.  A slight warning here:  you do need to be in the right mood for Palo's.  The service is very attentive.  If the hovering, overly descriptive type of service is not your style it may make you a bit uncomfortable.  I personally don't like that type of service – preferring to be given my food and left alone, but I was expecting it and found it fun tonight.  Missy got a nice little birthday surprise too.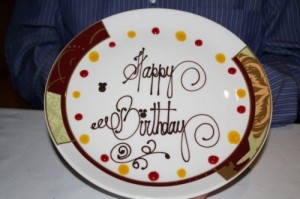 To say the food was good would be a massive understatement.  It was incredible.  Everything perfectly prepared.  After a desert of Chocolate Soufflé and fruit with vanilla cream, Missy and I waddled out of there and headed back to the stateroom where we found Mic watching the "Lost" channel.  We settled in for a welcome night's sleep.
Mic here, I went to dinner with all my new friends on this night and cannot remember what exactly I ate, but we laughed and giggled a lot, seems to be the norm for our group.    We were in Parrot Cay and had a special show with flamenco dancers and then Minnie came in dressed in a flamenco dress and did a quick spin across the floor.     Mostly a non event but cute.    I was using toothpicks to hold up my eyelids so skipped out on desert and headed back to the stateroom.
Tomorrow:  Day 5 – Day 4 at sea (with NO LAND IN SITE)!