This post may contains affiliate links for your convenience. If you make a purchase after clicking a link we may earn a small commission but it won't cost you a penny more! Read our full disclosure policy here.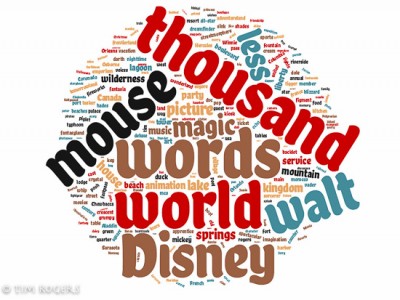 We have all heard the saying that "a picture is worth 1000 words." At its core, this points to the enormous amount of detail contained in every photograph, so much so that you would need pages to fully explain what is perceived almost instantly. However, to me, this phrase also means that each picture has a great story leading up to the moment of its taking. With this series, I hope to bring you some of those stories.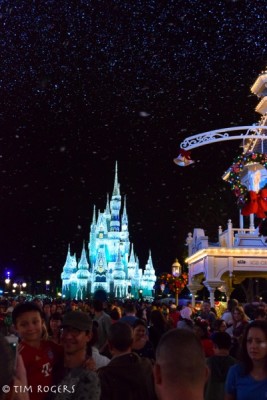 Last December, my wife and I attended our first "Mickey's Very Merry Christmas Party." It was one of the high points of a fantastic trip of firsts – our first trip as DVC owners, our first trip at Christmas, and our first trip with just the two of us to name a few.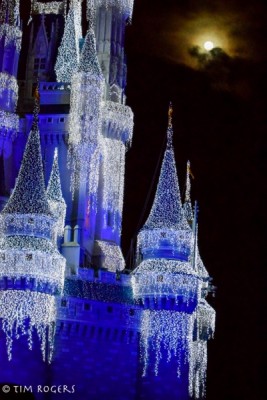 I, as you might relate to, am a massive planner. I had been doing over a year of research just for this one trip and this party in particular had a lot of specific plans so we could get everything done, from the parade and fireworks to the special meet and greets.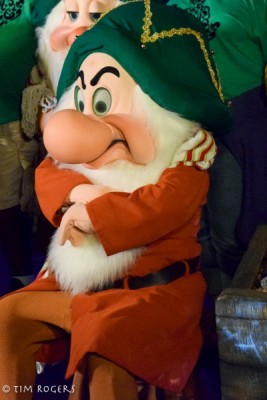 Like many uber planners, we started the night waiting for the 7 Dwarfs before the party even started. As the holiday parties are the only time you can see them, it is a very popular greet so waiting in line while other party stuff isn't happening is generally a good use of time.
We got through that line fast enough that we thought we had plenty of time before the first parade, so we got in line for Scrooge McDuck, Donald, and Daisy because it didn't look very long. However, they were some of the most interactive characters I have ever seen, so getting to meet them took a while (although they were great with us too).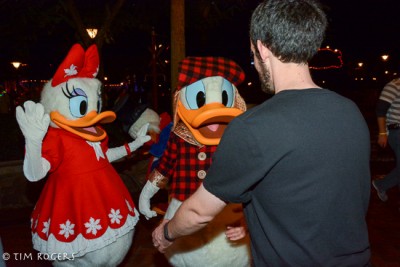 Daisy tried to walk off with me, Donald was not amused.
This brings us to the subject of this post. I love the Genie – growing up I would watch Aladdin every day and just skip to the Cave of Wonders. In high school I attached my Genie action figure to the front of my drum set whenever I would perform. I have a huge Genie in my work office to this day. However, Genie is also not that easy to meet, even at the parties. We also didn't completely understand his procedure until that night.
On party nights there are two groupings at the Agrabah Bazaar – the top half of the hour is Aladdin and Abu while the bottom half of the hour is Genie and Jasmine. The way the line works, it is entirely possible that you could get in line while the Genie is out, but by the time you get to the front he and Jasmine are switching out.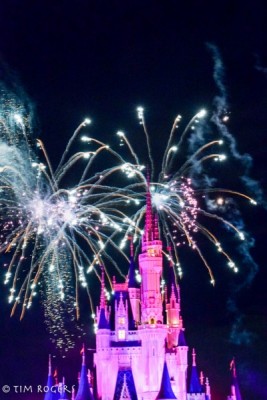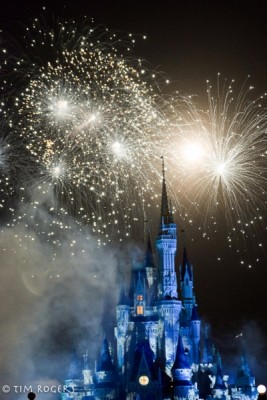 Because of our delay with Scrooge, we ended up missing part of the parade the first time, which threw off our plan for the rest of the night. When we were able to stop by Agrabah during the bottom half of the hour, they had closed the line because the second parade was about to go by in Frontierland and the characters had to go be a part of it.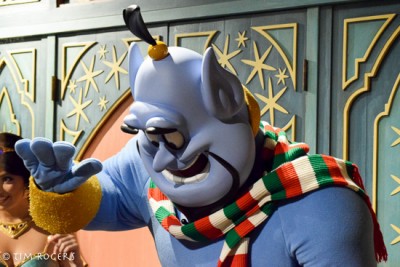 Genie saying hi to someone else…
At that point I thought that my chance to meet the Genie was done. We went back to Frontierland to watch the parade come by (side note – watching the parades from the porches in Frontierland can be a great view that you don't have to fight for as much as some other areas, especially Main Street). Towards the end of the parade, my wife left to check on something and I waited to take some more pictures of the end of the parade.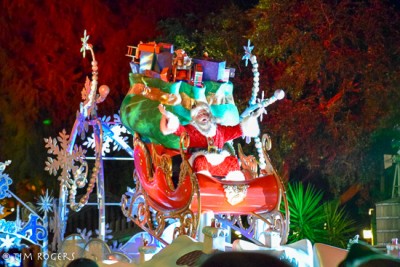 Probably the exact picture I was taking when my wife tried to call me
During this time my phone was also almost completely dead, so I wasn't able to get the message from her that she had parked herself in front of the line for the Genie so she would be first, and that as soon as the Princess float passed Frontierland, the Genie and Jasmine began greeting again (Jasmine is super fast). Until I walked over on my own and saw that the Genie was there, and that my wife had been letting people pass her in line while trying to call me. At this point it was maybe 5 minutes until the top of the hour and they were making the announcement that Genie and Jasmine would be taking a break very soon. I was getting incredibly nervous that at this point I still might not be able to meet him after getting so close.
However, that wouldn't be a very good ending to a story about a picture, would it.