This post may contains affiliate links for your convenience. If you make a purchase after clicking a link we may earn a small commission but it won't cost you a penny more! Read our full disclosure policy here.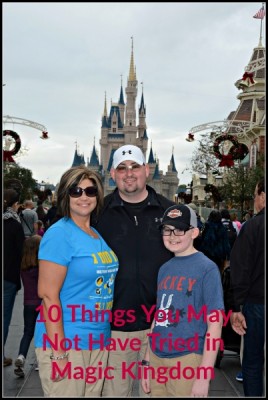 Magic Kingdom is one of the most unique places in all the world.  It is full of nostalgia, hidden gems, adventure, and excitement.  It truly has something that everyone can appreciate.  There are so many things to see and do in Magic Kingdom, that my family finds something new every time we visit.  Here are ten things you may have not tried that are worth seeing, doing, or even tasting.
Carousel of Progress – I feel very strongly about this attraction and I have only been on it once; the first time being our last visit. And for some reason that I can't even define, I have major love for the Carousel of Progress.  I am connected to its authenticity.  Not the dated animatronics or the cheesy story line, but the authenticity of Disney originality at its finest.  We had passed by it countless times on previous trips.  It's tucked back in Tomorrowland with a plain-Jane exterior that blends in with the backdrop.  Carousel is anything but ordinary.  The theater moves in a circular motion throughout different decades in American history.  You hear the story of an evolving family and get a little history lesson on what life was like along the timeline.  The seats are comfy and the air conditioning gives a nice reprieve from those hot and humid Florida afternoons.  This has quickly become a do not miss for future trips.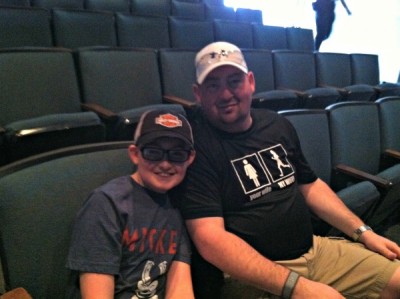 Inside the Carousel of Progress theater
Tom Sawyer Island – Nestled in Frontierland, Tom Sawyer Island is a quaint rustic island inspired by the stories of Mark Twain. A log raft will take you over to the island, across the Rivers of America.  What makes this place so wonderful is that it is truly a giant playground, for kids of all ages and those of us who are kids at heart.  There is a huge fort, caves, a working water wheel, and a barrel bridge.  If you are looking for a shady spot to rest while the kids burn off some energy, Tom Sawyer Island will not disappoint.  Please note that Tom Sawyer Island is only open until dusk, typically 6pm.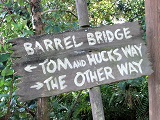 Tom Sawyer Island
Prince Eric's Village Market – There is no denying that Magic Kingdom has some great dining options, quick service and table service alike. I have found myself knee deep in popcorn, candy, ice cream, churros, and cheeseburgers many times over.  But after a few days of all those indulgences, I have found myself craving something healthier.  Prince Eric's Village Market, found in New Fantasyland, has fresh fruits, veggies, hummus, and all-natural lemonade.
Main Street Vehicles – Looking for an alternative way to get down Main Street USA? Try out the Main Street Vehicles.  These turn of the century vehicles will take you from Town Square to Cinderella Castle, or the opposite, during park mornings.  The vehicles range from a horse-drawn trolley, an omnibus, a motorized jitney, and even a fire engine.   What makes the experience even more fun are the cast members driving the vehicles.  They are very interactive and love to strike up a conversation with their passengers.
Flag Retreat – The Flag Retreat occurs every day on Main Street USA near the park entrance. You can participate in the Pledge of Allegiance, some patriotic music, and the lowering and folding of the US Flag.  A US military veteran is typically chosen as the guest of honor daily to assist with the ceremony.  This touching daily event will leave your heart full.
Frontierland Shootin' Arcade – Test your marksmanship skills at the Frontierland Shootin' Arcade. The target practice will cost you $1 for about 35 shots.  There are no prizes to be won; just bragging rights among your group.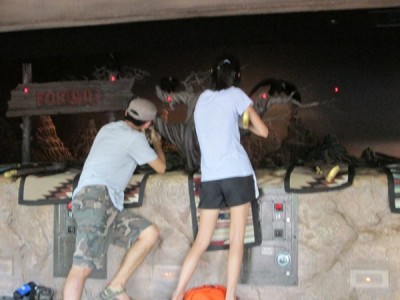 Frontierland Shootin' Arcade
Main Street Trolley Show – Occurring throughout the morning and early afternoon, the Main Street Trolley Show holds a captive audience and transports you back to a simpler time with themed costumes and music. Twelve performers aboard the trolley stop at various points along Main Street USA and put on an adorable song and choreographed dance routine.  The songs are catchy and will have you swaying and smiling as you enjoy the show.  When you see the Main Street Trolley Show approaching, stop where you are for a few minutes and be entertained.
Dining at Pinnochio Village Haus – The cottage themed Pinnochio Village Haus is adorable inside and out. It is located in Fantasyland, and is exactly what you pictured Geppetto's Workshop would look like.  The food here is Italian themed and features flat breads and salads.  The food isn't what stands out here.  If you go and select a window seat, you can look out over It's a Small World.  The windows are right above the operator's bridge at the loading area and passengers on the boats often look up at the windows to give a wave.  It's a great spot to get out of the heat and do some unique people watching.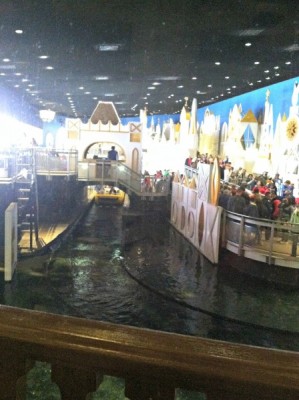 Overlooking It's a Small World from Pinocchio Village Haus
Electrical Water Pageant – The Electrical Water Pageant happens nightly, weather and park hours permitting, outside Magic Kingdom. The parade on water features 14 floats with dazzling lights and themed music.  It travels along Bay Lake and Seven Seas Lagoon and can be viewed at the monorail resorts as well as Wilderness Lodge and Fort Wilderness Resort and Campground.  The Electrical Water Pageant can be viewed outside the entrance of Magic Kingdom during extended theme park hours only, around 10:35pm.
Taking the Time to Slow Down – This one is the one that is typically the most difficult, but totally worth it. There are so many unique details in Magic Kingdom, from the windows on Main Street USA, the metal palm trees in Tomorrowland, the Liberty Tree in Liberty Square, the spitting camel in Adventureland, even the trash cans throughout each land.  Stop and take it all in.  There are so many components that create a memory; sights, smells, sounds.  Make it a point to notice as many as possible.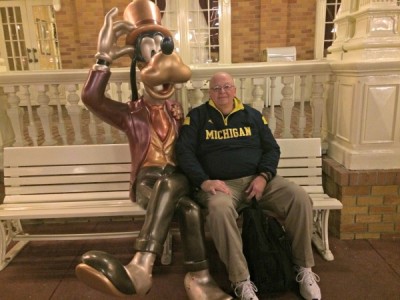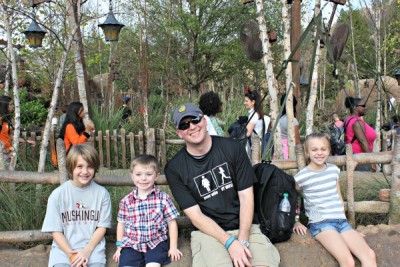 Taking Time to Take It All In
Magic Kingdom is a Disney icon.  There are the obvious things that grab your attention like Cinderella Castle and the Mountains (Space, Splash, and Big Thunder).  But there is so much more.  Take some time out of that busy schedule to try something new!
What is your suggestion of something that most may not have tried doing in the Magic Kingdom? Share in the comments!