This post may contains affiliate links for your convenience. If you make a purchase after clicking a link we may earn a small commission but it won't cost you a penny more! Read our full disclosure policy here.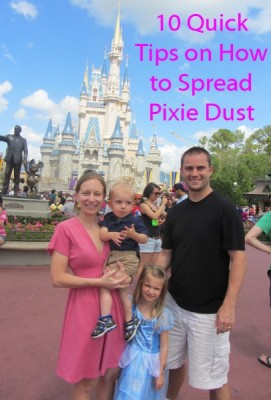 Family at Magic Kingdom
Walt Disney World is the Most Magical Place on Earth but after hours of planning, thousands of dollars, meltdowns from kids and adults sometimes the Most Magical Place doesn't feel that way.  We can easily forget the reason behind all of our planning when we are wrapped up in lines or hungry and tired.  We all get to that point during our vacations, no matter if it is a quick weekend trip or a once in a lifetime two week trip.  We in the Disney community all help one another so much ahead of time but it seems to stop once we arrive at Disney, so why not help one another out when we are visiting the park?   Here are ten easy, quick ways to pass along a little magic and pixie dust to everyone from fellow visitors to mousekeeping.
 Pixie dust cards
One way we had our kids spread pixie dust was through what we called pixie dust cards.  These were small business size cards that had short sayings on them such as "have a magical day" or "thank you for your help".  We allowed our kids to hand these out to kids and adults alike who they felt needed one.  From our bus driver to a little boys who helped us pick up our toys we dropped, these little cards had a big impact on those around us.
 Open the door
This seems really silly, but it can seriously go a long ways in Disney.   In a place where we are all rushing and in a hurry, taking a moment to hold the door for someone can bring them some pixie dust without you even knowing it.
 Offer your seat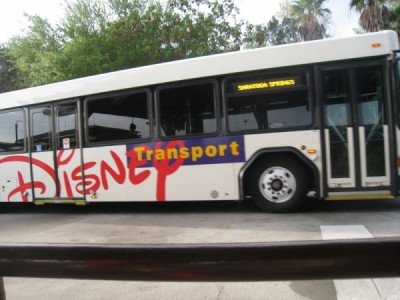 Disney Transportation
I know what you are thinking.  Absolutely not.  After a long day I am not going to give up my seat.  Trust me I get it.  I know that happiness that you get when you finally sit down on the bus back to your resort, but how much pixie dust could you spread if you allowed someone else that feeling.  How could you help their day be that much better.
 Mousekeeping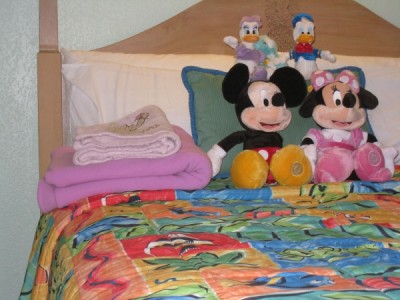 fun set up by mousekeeping
I absolutely loved creating mousekeeping envelopes that I was able to leave tips in each day for our mousekeeper.  Not only did it bring me a bit of happiness each morning as I set it out,  but each trip I have received a personal note saying how much they appreciate the thought and time I took in making them.  As we normally don't see these men and women who take care of us each day, I like to use the mousekeeping envelopes to say thank you and pass along some pixie dust their way
 Fill out a card
If you have a cast member who goes above and beyond for your family, take time to head to guest services to fill out a card to pass this information along.  Regular cast members aren't allowed to receive tips; however positive cards are given to their supervisors and these make a big impact on their work environment and even status in Disney.
 Share a snack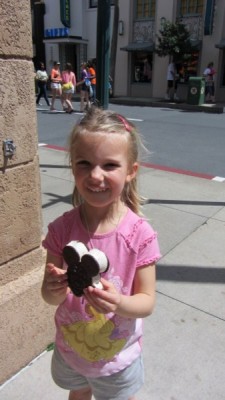 Loving her first Mickey ice cream
This another fun option that truthfully finds other parents confused at first.   If you find yourself with extra snack credits or a few extra dollars, use it to purchase a Mickey bar or popcorn for a little one celebrating their birthday.   This can be tricky with parents but if you explain yourself and that you are just spreading pixie dust, most parents are okay with this.
 Buy a balloon to share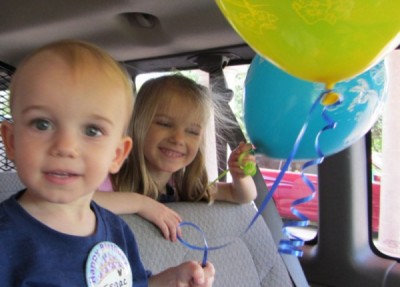 Loving our welcome balloons
This option can also be tricky as some really don't like the balloons, but again if you talk to parents first giving a child a balloon is a sure way to spread pixie dust around.
 Ask for an autograph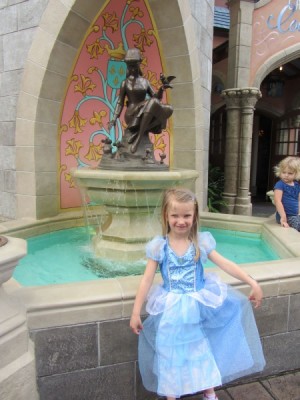 Daughter being Cinderella
There are so many little princesses walking around the parks that this is an easy one to do.  When waiting in line, ask a little princess for an autograph as if she is the princess she is dressed up as.  The joy and excitement that you will bring to her will warm your heart.
 Be considerate
Sadly this can be hard when we are wrapped up in all things Disney.   Take time to be kind and considerate to one another.  Allow that little kid in front of you while watching the parade.   Ask the mom with the crying toddler if she would like to go ahead of you in the bathroom, help someone carry their food, say excuse me as well as please and thank you.  All of these small things. An go a long ways in spreading pixie dust and making a day magical for someone else.
Smile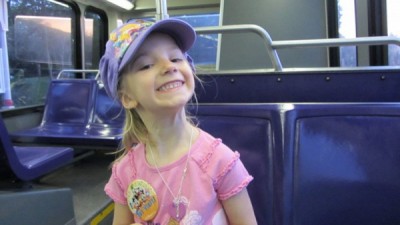 Just happy to be here
Finally the cheapest and easiest option there is.. smile.  A friendly smile can go a long ways during times of stress.  We often forget this simple action and how it truly  an be catching to those around us.  Smiling can help people take minute when they are stressed out and give them a moment to collect themselves.   Smile at one another.  We are all there for the same reason.
As you are visiting Walt Disney World, it is so easy to find ourselves in a little bubble not aware of those around us.  Use these easy, quick ten tips to spread pixie dust to those around you.
What is your favorite way to spread pixie dust while visiting the Disney parks?
Incoming search terms:
https://www themouseforless com/blog_world/10-quick-tips-spread-pixie-dust-disney/
https://www themouseforless com/blog_world/10-quick-tips-spread-pixie-dust-disney/#:~:text=One way we had our who they felt needed one
pixie dust disney cruise
what are pixie dust cards for at disney