This post may contains affiliate links for your convenience. If you make a purchase after clicking a link we may earn a small commission but it won't cost you a penny more! Read our full disclosure policy here.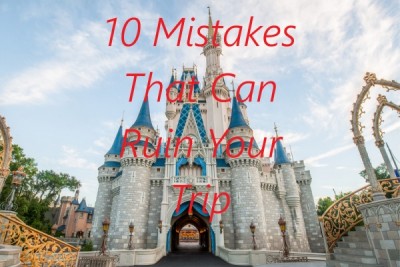 You have decided to go to Walt Disney World for your family vacation.  You want it to be perfecting every way but watch out for these 10 things that can ruin your Walt Disney World vacation.
Not researching
Walt Disney World is a huge.  There are so many choices, opportunities and don't forget acronyms for everything that it if you don't do research ahead of time you could become extremely stressed and overwhelmed which isn't what you want on your vacation.  Jump on some blogs, watch some videos and most importantly look at the park maps.  One thing that can ruin a trip quickly is not knowing where anything is once in the parks.  There is no way to know where everything is located in every park but if you can have a general understand prior to your trip of which rides are in which of the four more parks or even better where they are located within the park itself it will help eliminate some frustrating moments for everyone.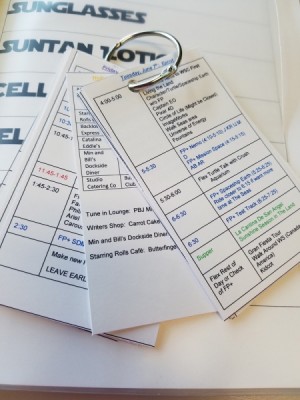 Our General Plans
 Not making a plan
As mentioned before Walt Disney World is huge.  With four main theme parks, two water parks there are endless things to see and do.  Keeping that in mind, it is important to make sure you have a general plan for each day while you are at Disney.  By knowing the basics before you get there such as what park you want to be in each day, what rides everyone would like to go on in the different parks, what evening shows are a must, what rides the kids can't go on because of height, will help prevent meltdowns and arguments as well as wasted time standing around trying to make a plan.  Even if you are one that believes "I am on vacation.  I do not want a plan." I would warn that not having any plan at all can easily ruin your entire trip or at least cause a lot of frustration and a lot of missed opportunities.  Try to make a general plan before heading down as it will help you in the big picture.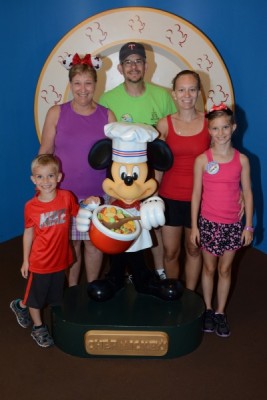 Loving Chef Mickey's
 Not booking Advance Dining Reservations (ADR)
There is nothing that can crush a little princess' heart than the disappointment of learning her dreams of eating in the beautiful castle isn't going to happen because there are no open tables.  As Disney is getting busier and busier, it becomes even more important to book dining reservations before heading down.  Those staying on Disney property can book 180 days ahead of their reservation and for those extremely popular restaurants such as Cinderella's Royal Table and Be Our Guest it is highly recommended you do so on that 180 day mark.  A trip can be ruined if you are hoping to just walk up to these table service restaurants and get seats.  This is almost impossible to do especially at main eating times.  Don't let this happen to you.  Make sure to plan ahead and get those reservations.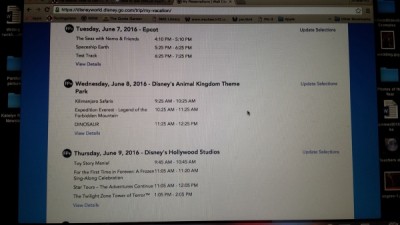 General FastPass Plan
 Not Booking FastPasses
Along with booking your dining goes booking your FastPasses.  Remember you get three FastPasses for each day of your ticket and those staying on property get to book these 60 days ahead of time.  Once again, for those extremely popular rides such as Frozen Ever After, Soarin, Seven Dwarf Mine Train, Toy Story Mania and Expedition Everest if you want to avoid hour long waits it is highly recommended that get these booked early.  They are easy to modify and move around once you have the original ones books so therefore it is a huge advantage to do these early.  It can be a big disappointment on a trip to learn the only way to ride a favorite is to stand in the two hour wait.  Don't let this be you get those booked.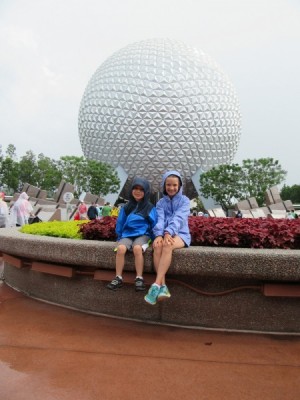 Grab Those Rain Coats
 Not Preparing for the Weather
You head into Tower and Terror, yell and scream and as you prepare to walk out you see the downpour that is waiting for you.  What?  When you went inside it was sunny and warm.  What happened?  Well, welcome to Florida.  No matter when you are traveling to Walt Disney World, make sure that you spend some time looking at the norms for the weather when you are there.  Even though it is Florida, it can get cool at night in the winter.  In the summer, rain storms can come from nowhere.  Don't let being unprepared for these different elements ruin your trip.  Pack those rain ponchos, umbrellas, coats and even mittens sometimes and you and your kids will be so much happier.
 Thinking You Can Do It All
This is a big vacation.  You have spent hours planning, years saving and you are going to see it all.  Okay, take a breath and repeat after me, "I will not see it all."  As I have said numerous times, Walt Disney World is huge.  No matter if you are going to three days or two weeks you still will not see it all.  Knowing this ahead of time and having this mindset before going will prevent you from being disappointed or feeling like you missed things.  Go back to my second tip and make sure you plan so you get to those top priorities.  If you go into your vacation thinking  you can do it all you will be frustrated, tired and disappointed because it just isn't possible.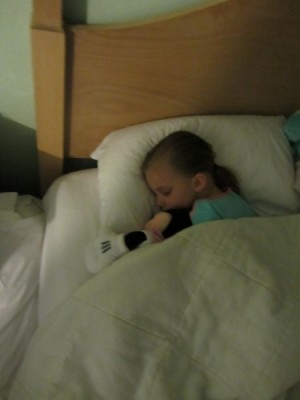 Naps are good
 Not Taking Breaks
Another things that can ruin a trip is not taking breaks.  You might think that you can go from sun up to sun down every day of your trip, but just isn't smart or healthy in the heat of summer.  If you try to push too long in the parks, people get tired, cranky and it becomes no fun for anyone.  By taking a two hour break in the heat of the day can make a huge difference for everyone.  It gives you time to rest, refresh, and refuel before having more fun in the evening.  Even as adults, it is hard to go from park open to close every day of your trip.  Breaks are key to making sure everyone stays happy along the way.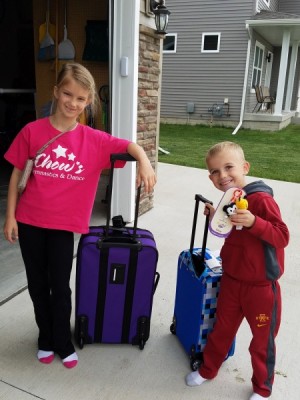 Preparing to Walk with Suitcases
 Not Preparing for the Walking
Now with the new Fitbits and similar devices you can see how much people walk during their vacation.  It isn't a vacation where you are going to do a lot of sitting and relax.  You are on your feet walking and moving a lot.  If you aren't prepared or your kids aren't prepared for this exercise it can really put a damper on your trip.  Take some time before you vacation to get out and walk around.  Just a little every day will make a huge difference when you are there.  Our kids commented our first day, "now I know why you had us practice walking, Mom.  This is a lot of work."  It sure is kid, and it wouldn't have been any fun carrying you around the whole time.  Get out and get those feet prepared.
 Thinking it will be Perfect
Even if you prepare like crazy, and I do trust me, it isn't going to go perfectly.  Yes that is right.  Something is bound to go wrong.  Something is throw you off your game.  Something will rain on the parade.  If you go into the trip knowing that this will happen you will be more prepared when it does.  Don't think that it will be perfect because it is setting yourself up to be disappointed.  Instead, plan and be prepared but know that things will change and adjust accordingly.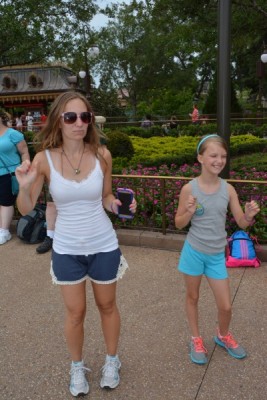 Dancing in Magic Kingdom
 Not Taking It All In
Being the planner that I am I have to sometimes remind myself while I am on vacation to actually breath it all in.  Something that can ruin your vacation is if you miss your vacation because you are so worried about the plan or the schedule or what is suppose to be happening.  Make sure that you stop and smell the popcorn (it is amazing), dance in the rain, and sing at the top of your lungs at the Frozen sing along.  You don't want to get back from vacation and realize that you missed it all.
Being able to go on a Walt Disney World vacation is an amazing opportunity, but you don't want to have your vacation ruined by making mistakes that can be avoided for the most part.  Take time to prepare along the way while making sure you enjoy yourself while you are actually in Disney.
What mistakes have you learned from when planning your Walt Disney World vacations? Share in the comments!
Incoming search terms: