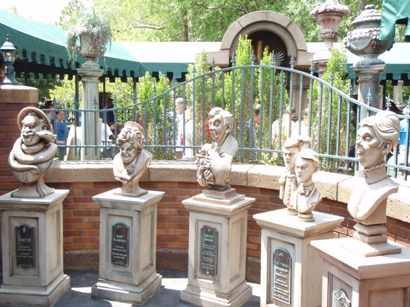 By: Rikki Niblett
It was a crazy year again for the Disney Parks. Lots of great things happened and a ton of new attractions opened. Some attractions reopened after lengthy refurbishments. We also lost a few things and a brand new Disney destination premiered. So, we here at Magically Speaking thought we'd taking a look at some of the biggest news stories that happened with Disney this year.
First, 2011 started off a little sadly with Mickey's Toontown Fair closing at the Magic Kingdom. Many were heartbroken to see this area go, but with the new Fantasyland approaching for 2012 it was a necessary evil. This was the last land added to the Magic Kingdom and the first to ever close at the Walt Disney World Resort.
Debuting on both coasts in January was The Magic, The Memories, and You. This show is projected on Cinderella Castle at the Magic Kingdom and it's a small world at Disneyland. For many, I think this show was a surprise hit (I know it was for me!). It's so amazing to see what technology can do! It truly is a remarkable show and if it doesn't leave you with a tear in your eye, I don't know what will.
After much anticipation, we saw a new Disney Cruise Line Ship launched. The Disney Dream began sailing the open seas in January. She is a gorgeous ship and was totally worth the wait. To me, the thing that has to be one of the best additions for the Disney Cruise Line has to be the AquaDuck. It is one of the most fun things I've done at sea. We also saw the opening of a new upscale restaurant; Remy. The Disney Dream is also the home of the Midship Detective Agency, a fun game that uses the enchanted art (also new) that's found all around the ship. There were countless other upgrades included in the Dream that make this one of the best ships at sea.
The summer months were a crazy busy time for the Disney parks on both coasts. In May, Tangaroa Terrace, a quick service dining location featuring a tropical setting and island inspired food, and Trader Sam's, an enchanted Tiki bar that is full of kitsch, opened for the public at the Disneyland Hotel.
In addition to new restaurants, this summer, quite a few new attractions opened their doors. The Little Mermaid: Ariel's Undersea Adventure debuted at Disney's California Adventure. After more than 20 years guests are finally able to journey under the sea and become a part of Ariel's world. (For those of us who grew up with The Little Mermaid, this is quite a treat! I always wanted to be Ariel as a kid!)
Another new attraction that opened this summer at Disney's California Adventure was Goofy's Sky School. This wild mouse roller coaster takes you for flight training lessons with Goofy. Let me tell you, if anyone should be your flight instructor, it's Goofy (Not!)!
Premiering at Disneyland was the Mickey's Soundsational Parade. This new parade will get you dancing! It is a colorful, exciting new parade with a ton of great Disney characters. If you love characters, this is one of the best places to see them!
After years of speculation, it was announced in 2009 that Disney would finally be introducing a new Star Tours attraction. The years of waiting certainly paid off as the new version debuted this summer with much fanfare. The updated attraction, which can be found at both Disneyland and Disney's Hollywood Studios, introduced new destinations, characters and a brand new element never before in the mix: 3D.
In August Disney held the D23 event in the Anaheim Convention Center. D23 is always an exciting convention and this year it included previews for the new Cars Land and Fantasyland, as well new as NextGen characters in The Great Destini who told fortunes and a talking Mickey who conversed with guests, new movie announcements, plus much more.
This August, the Magic Kingdom's Enchanted Tiki Room reopened after a fire shut down the attraction in the beginning of the year. When the fire took place speculation ran rampant, wondering if the attraction would return to its "New Management" version with Zazu and Iago or if Disney would decide to re-do the attraction to a version similar to the original. The new attraction, thankfully, returned to its original glory (with a few tweaks) and the show has been packing them in ever since.
This year brought the opening of a brand new DVC resort; Aulani. This beautiful, freestanding resort offers a ton of activities for the whole family. There are four restaurants and two lounges as well as a themed swimming pool with tube slides. Disney also has included sunset facing hot tubs and a really neat snorkel lagoon. It seems like an exciting place to vacation, for sure!
In addition to the opening of Aulani, Disney has finally announced that the construction that started next to the Grand Floridian is, in fact, a new DVC location.
Finally, near the end of the year Disney announced that they were partnering up with James Cameron to build an Avatar-themed land in Disney's Animal Kingdom. This announcement didn't come with a whole lot of information but I'm sure that some time in the coming year we'll learn a bit more about what Disney has in store for us.
We know for certain that 2012 holds the new NextGen game. Sorcerers of the Magic Kingdom should be debuting in the early part of the year. In addition, at the Magic Kingdom, something many of us are looking forward to, the beginning of the phased openings of the New Fantasyland. (I can't wait to eat in the Be Our Guest Restaurant, but I'm a little biased, all things considered.) Disney will unveil its newest ship, the Disney Fantasy, in March and it will be interesting to see what changes and similarities it will have to its sister ship, the Dream. In the summer, over at Disney's California Adventure, we'll see the opening of Cars Land with its three new attractions and other areas to explore.
Next year looks to be another exciting one! I know that I simply can't wait to see what 2012 has in store for all of us Disney fans!