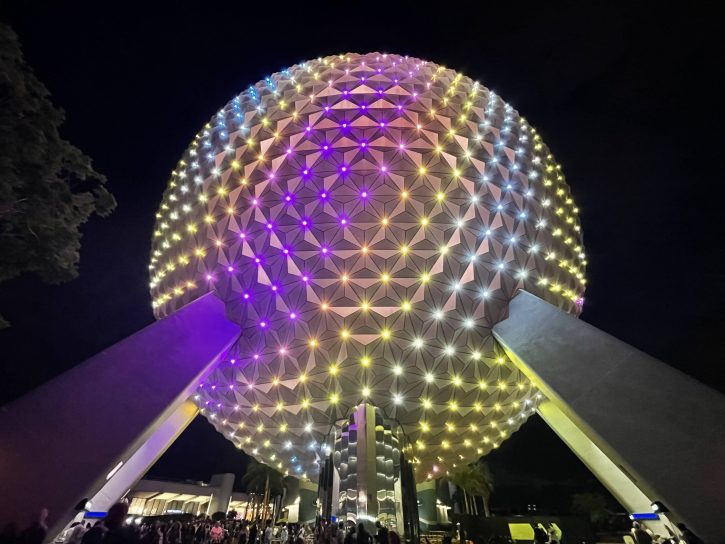 One of the best parts to come from the 50th anniversary of Walt Disney World and remains has been the nighttime light show that occurs on Spaceship Earth each evening. These shows are truly gorgeous and showcase light and music in unique ways. There are multiple shows that happen each night. Now there' s a new show that's coming to EPCOT's evening lineup.
Beginning on November 22, Spaceship Earth will illuminate with special colors and lights themed after the Disney Animated film, "Wish." The show will be also accompanied by the brand-new song, "I'm a Star." "Wish" also debuts in theaters on November 22.
Take a look at the preview here:
Guests looking to experience more "Wish" fun in the park can now meet the main character Asha in EPCOT, as well. She can be found in the gazebo near the entrance of World Showcase.
In "Wish," Asha, a sharp-witted idealist, makes a wish so powerful that it is answered by a cosmic force. This force is a little ball of boundless energy called Star. Together, Asha and Star confront a most formidable foe, the ruler of Rosas, King Magnifico to save her community and prove that when the will of one courageous human connects with the magic of the stars, wondrous things can happen.
Want to book your next Walt Disney World Resort vacation? Our friends at The Magic For Less Travel can assist. Get a quote now.
Follow The Mouse For Less for more information about the latest Walt Disney World news.
For more Disney news and trip planning advice, follow The Mouse For Less on Facebook, X, Instagram, Threads, YouTube, or TikTok.
For vacation planning information, please visit our
Walt Disney World
planning section.