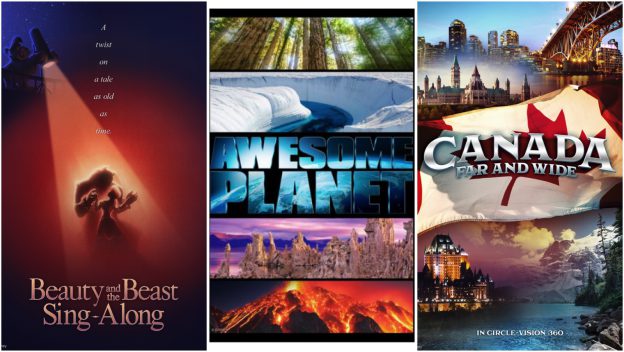 Guests who visit Epcot beginning this weekend on January 17 will be able to experience three brand new films in three different pavilions. These new films are called Awesome Planet which will debut in The Land Pavilion, Canada Far and Wide which will debut at the Canada Pavilion, and the Beauty and the Beast Sing-Along, which will debut in the France Pavilion.
Here is what we now know about these three new Epcot films:
"Awesome Planet": explores the beauty, diversity and dynamic story of Earth. The film will last 10 minutes and will use in-theater effects (including wind, scents and water) to tell the story of life on this planet and why it's vitally important to care for it. The film includes narration by Modern Family's Ty Burrell, as well as an original musical score from Academy Award-winning composer Steven Price and was done in collaboration with the Disney Conservation Fund.
"Canada Far and Wide in Circle-Vision 360": this is an update to the previous "O Canada!" film. This version will include new scenes, a new musical score by Canadian composer Andrew Lockington and new narration by award-winning actors Catherine O'Hara and Eugene Levy.
"Beauty and the Beast Sing-Along": presented in the Palais du Cinémais this film is directed and produced by Don Hahn and features narration from Angela Lansbury, who played Mrs. Potts in the original film. The new sing-along presentation will run in conjunction with "Impressions de France," which will receive an upgrade to 4K projection. In addition, there is a brand new exhibit called "Tales as Old as Time: French Storytelling on Stage and Screen" which invites guests to explore six distinct gallery cases that include a collection of costumes, music, artwork and more, all dedicated to the adaptation of French literature in cinema, theater, ballet and opera. The exhibit showcases how French literature has inspired artists from around the globe, including favorite Disney stories. Items on display from the Walt Disney Archives include a glass slipper from the live-action Cinderella and Belle's costume from the live-action Beauty and the Beast.
For vacation planning information, please visit our
Walt Disney World
planning section.