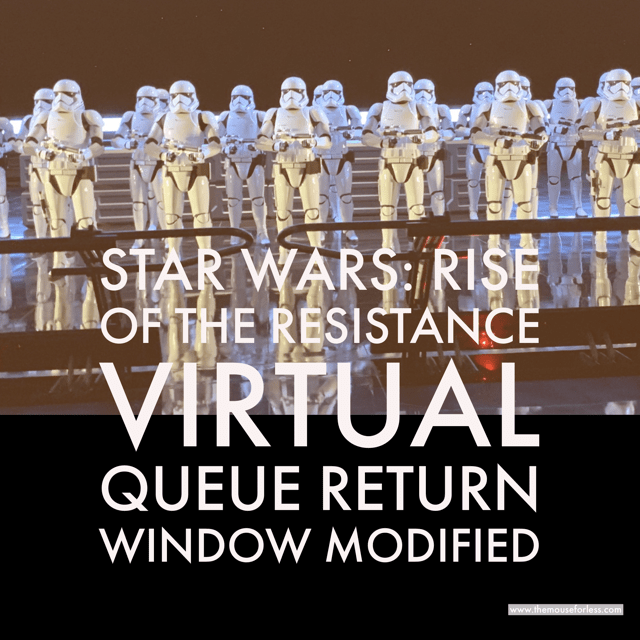 If you are planning to ride Star Wars: Rise of the Resistance in Star Wars: Galaxy's Edge on your next visit to Walt Disney World, keep in mind that the Virtual Queue's Boarding Pass return window has been changed.
The overall system for getting into the virtual queue boarding pass process remains the same for the Disney's Hollywood Studios attraction.
The virtual queue for Rise of the Resistance is available for Guests to be able to join beginning at the published park opening time. Guests may enter certain areas of the park prior to opening, however in order to be able to access the virtual queue, Guests must be in Disney's Hollywood Studios and will be able to do so by using the My Disney Experience app. At the park's published opening time, the virtual queue for Star Wars: Rise of the Resistance opens along with offerings throughout the rest of Disney's Hollywood Studios.
Once the boarding groups run out, there may be the opportunity to join a backup boarding group. Backup boarding groups will only be called if all of the initial planned boarding groups have been called back and there is additional capacity for more riders that evening. If Disney is able to accommodate boarding groups that evening, Guests will be notified through the My Disney Experience app by a push notification (if so enabled).
Previously, Guests had a set two hour return window to come back to the attraction to ride, however now, Guests will be given a specific window of time of either one or two hours to visit the attraction through the My Disney Experience app.
For those with questions, members of the Guest Experience Team will be available throughout the park to assist anyone with questions or needing a hand with the virtual queue.
For vacation planning information, please visit our
Walt Disney World
planning section.