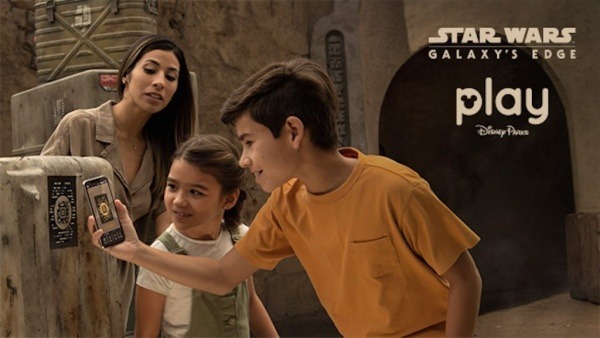 When Star Wars: Galaxy's Edge officially opens at Disneyland next week (!) on May 31 and at Disney's Hollywood Studios on August 29, excitement is truly ramping up. And there will be a fun way for Guests to be able to interact with a land that will already be an incredibly themed destination. You see, when Guests enter Star Wars: Galaxy's Edge, they will be able to play on their Star Wars: Datapad (ie: their mobile device) for a land-wide interactive experience through the Play Disney Parks app.
Here are some of the ways you can use the app to help you explore the land:
Hacking Feature: you'll be able to interact with the land like see behind certain door panels or even with droids to see their memories.
Scanning Tool: will let you see inside cargo that's found laying around the land
Translation Tool: will help Guests to understand the language of Aurebesh and be able to read the signs that can be found throughout Black Spire Outpost.
Tuning Feature: Decrypt signals from communication devices and hear secret messages.
There will also be a game called "Outpost Control" where Guests will be able to choose to support either the First Order or the Resistance as both sides vie for a hold on the land. Winners may even find themselves rewarded with galactic credits for their efforts.
There will even be an in-queue game for Millennium Falcon: Smuggler's Run where as Guests reroute misplaced cargo, they'll learn how to keep their cover under pressure and prep the Falcon for their flight.
These games for the Play Disney Parks app will be available at both the Disneyland and Disney's Hollywood Studios versions of Star Wars: Galaxy's Edge. If you want to play along, make sure you've downloaded the Play Disney Parks app from either the Google Play Store or the Apple App Store.