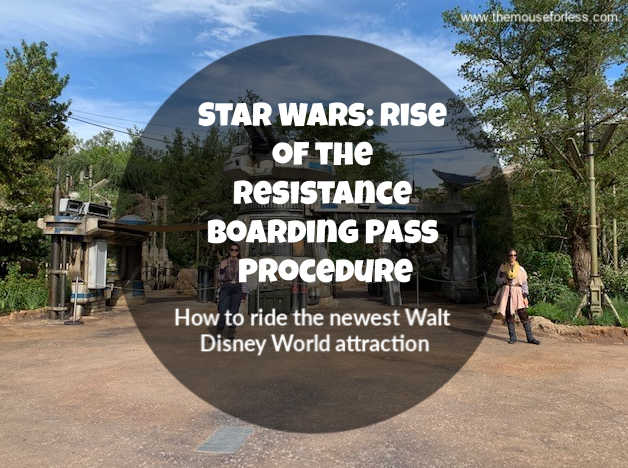 Since the opening of Star Wars: Rise of the Resistance in Star Wars: Galaxy's Edge at Disney's Hollywood Studios, the process to ride the attraction has been a bit confusing. Many who entered the park were unaware that they needed to arrive incredibly early to be able to participate in the boarding process, with the ability to ride the attraction being unavailable sometimes even within minutes of park opening. Because of that, many park Guests kept arriving to the park earlier and earlier to ensure that they got their chance to ride this thrilling new attraction.
Disney has officially updated and shared the details on how the boarding pass process will work from now on.
Moving forward, the virtual queue for Rise of the Resistance will now not be available for Guests to be able to join until the published park opening time. (Before, the virtual queue was available for Guests to join prior to official park opening time.) In order to be able to access the virtual queue, Guests must be in Disney's Hollywood Studios and will be able to do so by using the My Disney Experience app.
Once the boarding groups run out, they run out, however, there may be the opportunity to join a backup boarding group. Backup boarding groups will only be called if all of the initial planned boarding groups have been called back and there is additional capacity for more riders that evening. If Disney is able to accommodate boarding groups that evening, Guests will be notified through the My Disney Experience app by a push notification (if enabled).
In the morning, prior to park opening, Guests may be able to enter the park early only to enjoy limited locations, like visiting Trolley Car Cafe or Keystone Clothiers.  In addition, all other park attractions will not be open until the published park opening time. (Again, prior to this change other attractions would open early for Guests to enjoy.)
This new process for riding Star Wars: Rise of the Resistance seems to be how things will go through the holidays, however, do keep in mind that this could also all change tomorrow. We'll keep you posted if things change.
For vacation planning information, please visit our
Walt Disney World
planning section.