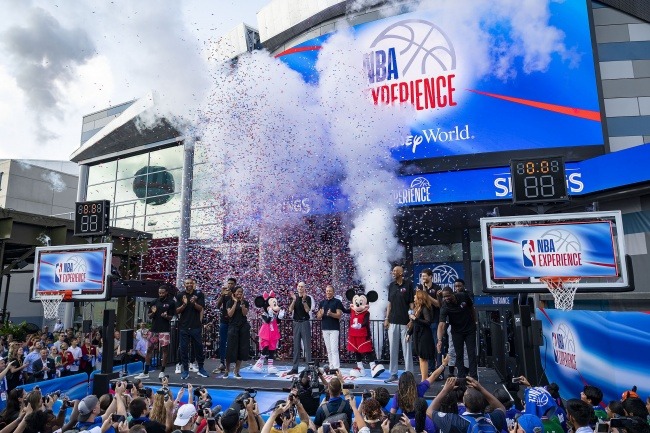 Guests who are huge basketball fans can rejoice! The NBA Experience is officially now open on the West Side of Disney Springs.
There was a huge grand opening ceremony held this morning, with many digintaries including current NBA and WNBA players, previous basketball stars and even Bob Iger, himself. Take a look at the hoopla, surrounding today's opening.
For those who don't know, this all-new, fun-filled destination has been a collaboration in the making between Disney and the NBA. When Guests step inside they building, they feel what it's like being a basketball superstar. The destination includes 13 interactive elements and hands-on activities across 44,000 square feet and two floors.
Activities will include:
A slam dunk challenge, where Guests can change the height of a standard 10-foot hoop to as low as seven feet to perform their own superstar moves – captured by burst photography.
An activity that tests shooting skills with spots on a court that light up as guests move from one location to another attempting to sink as many shots as possible in 15 seconds.
A way for guests to see how they stack up to some of the world's best basketball players by measuring their vertical leap, wingspan, shooting and dribbling.
Personalization for various activities with guests' names and associating the activity with their favorite teams.
Real-time technology to aggregate statistics of NBA and WNBA games and players for continuous updates, while leaderboards will track top NBA Experience performers throughout each day.
For a full list of activities that you can take part in at the NBA Experience, click here.
The NBA Experience is a separately ticketed  experience and Guests will be able to take part in every activity and learn more about the game that they love. Tickets cost $34 (plus tax) for Guests ages 10 and older, and $29 (plus tax) for children ages 3-9.
One thing to keep in mind is that because this is an athletic experience, Guests visiting this attraction are encouraged to wear athletic shoes, as well as athletic gear.
In addition, if you are looking to bring home a little bit of NBA fun with you, you can also pick up specially themed NBA/Disney apparel, ear hats, backpacks, tech gear, and more at the NBA Store.
For vacation planning information, please visit our
Walt Disney World
planning section.