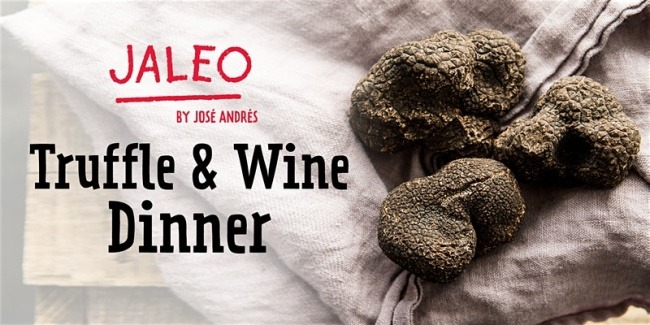 Do you love truffles? Love wine? Well Jaleo at Disney Springs is going to be pairing the two at this special, one-night-only event on February 12 at 6:30 p.m. Guests who attend this event can experience an interactive class on truffles followed by an exclusive multi-course dinner with Spanish truffles shaved tableside by Jaleo chefs and Spanish wine pairings.
Each winter, Nacho Ramirez and his specially trained truffle-hunting dog Pepe search the Spanish countryside in pursuit of the best black truffles, which are about six months old, mouthwateringly fragrant, and buried in the rich soil. For this event, Nacho will be flying these truffles to Jaleo the day they're discovered, where they will be the star ingredient in nine dishes created by Jaleo Culinary Director Ramon Martinez and Head Chef Rodolfo Guzman.
These truffles will be expertly paired with wines that have been hand-selected by Jaleo Sommelier Rafael Delgado and ThinkFoodGroup Sommelier Jordi Paronella to accent the flavors and textures of each dish.
The menu for this event includes:
MENU:
Tartaleta de colifor con trufas, Coca de cristal con panceta iberica y truffles Croqueta partida con trufa
Paired with Cuvee Jose Raventos I Blanc
Tartar de Carabineros con trufa – Southern Spain cardenal prawns tartar with truffles
Paired with Manzanilla Pasada Pastrana
Tortilla 2.0 con trufas – Spanish potato omelette NEW WAY with truffles
Paired with Maximin Grunhaus, Riesling Abtsberg Spatlese
Canelón de setas silvestres con trufas – Wild mushroom canelón with porccini and truffles
Paired with As Sortes 2016 Bodegas Palacios
Arroz de carrillera iberica de bellota , con alcachofas , y trufas – Iberico de bellota paella with artichokes morels and truffles
Paired with Valbuena Vega Sicilia 2014
Pan con chocolate, aceite y trufas
Paired with Lustau East India Solera
Helado de leche de cabra con trufas
The cost of this private experience will be $299 a person, but that price includes taxes, fees, and gratuity. Tickets can be purchased here.
For vacation planning information, please visit our
Walt Disney World
planning section.