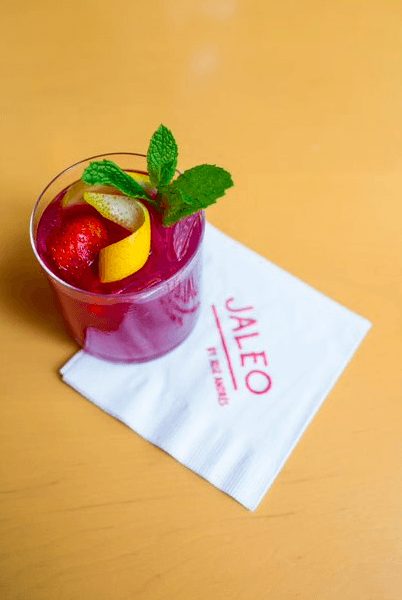 Have you been to Jaleo located on the West Side of Disney Springs yet? If you haven't, I have a reason to make sure you head over there. And if you have, well I absolutely have a reason for you to return to this table service dining location!
You see, beginning on July 29, Jaleo will begin offering Sangria Hour! Guests can stop by the Jaleo Matador Bar from 3:00 p.m. – 6:00 p.m. and be able to enjoy select discounted tapas and beverage specials.
The special menu pricing is as follows:
Sangria Hour Tapas Menu
Cono de Tomate y Queso – $4
Pan de Cristal con Tomate ½ order (3 piece) – $6
Gazpacho – $5.50
Endibias (4 pc) – $6
Pisto con Huevo– $5
Croquetas de Pollo – $6
Bunuelos de Bacalao – $6.50
Patatas Bravas ½ order – $5
Piña Borracha – $5
Paella/Arroz of the day ½ order – $10
Sangria Hour Beverages – $6
Draft Beer
Draft Wine (White and Red)
Sangria Roja
Jaleo is offering the Sangria Hour seven days a week. So, the next time you are visiting Disney Springs and find yourself a little hungry or incredibly parched in the middle of the afternoon, make sure you swing by this new Disney Springs restaurant.
For vacation planning information, please visit our
Walt Disney World
planning section.