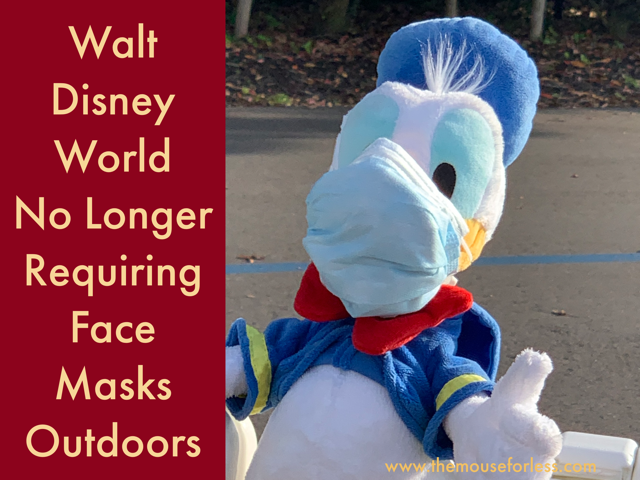 First, Universal Orlando Resort released news that they would be allowing Guests to not wear masks while outdoors. Now the Walt Disney World Resort is following suit. These changes all follow guideline updates from the Centers for Disease Control.
What's Changed With Face Masks?
Disney's website officially now states:
Face coverings are required for all Guests (ages 2 and up) and Cast Members. Please bring your own face coverings and wear them in all indoor locations, except when actively eating or drinking while stationary and maintaining appropriate physical distancing. Face coverings are optional in outdoor common areas at Walt Disney World Resort, but are still required upon entering and throughout all attractions, theaters and transportation.
As you can see, at the Walt Disney World Resort, face masks must be worn when entering and enjoying attractions. You must also wear a mask when entering a theater and enjoying a performance. Masks will also need to be worn when riding transportation, as well as at all transportation entrances. And finally, when in all indoor locations, including restaurants, masks will need to be worn. The exception is when actively eating or drinking while remaining stationary.
Additional Health and Safety Policy Changes at Walt Disney World
Wearing a face mask is optional when in outdoor common areas, as well as on pool decks. Face masks also may be taken off when taking photographs in outdoor settings.
Policies have not changed in regards to what types of face masks are considered approved options. You can see what types of face masks that can be worn here.
Other changes that have occurred recently include the removal of temperature screenings, as well as changing physical distancing from 6-feet to 3-fe.et.
The face mask policy change goes into effect May 15. (That's tomorrow.)
No changes have been put in place for the Disneyland Resort regarding their face mask policies.
For vacation planning information, please visit our
Walt Disney World
planning section.