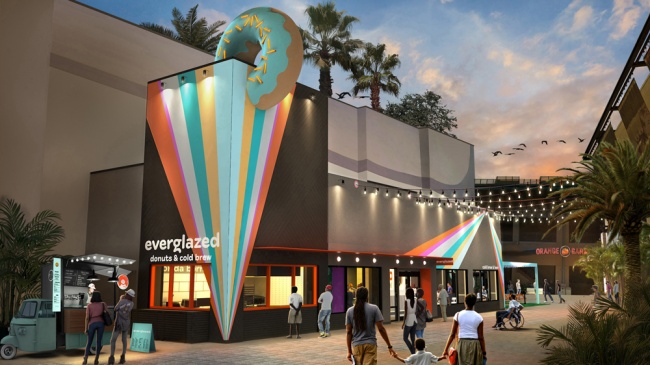 One of the things that has been lacking at Disney Springs has been great breakfast options. Now, thanks to the newly opened Everglazed Donuts & Cold Brew, that may no longer be the case! That's because, according to their social media, Everglazed is now officially open!
View this post on Instagram
Everglazed offers Guests both classic donut options, as well as incredible gourmet creations. Their donuts are made from scratch daily. The traditional options include vanilla cake, chocolate iced, and glazed. In addition, there are the more interesting options, like the Mounds Coconut Dream, the Cinnamon Toast Crunch, and the Maple Double Bacon.
Of course, as the name suggests, they also specialize in cold brew coffee. They offer a nitro option, as well. And if you're just looking for regular old drip coffee, they have you covered there too.
In addition, if you're looking for coffee with a donut, consider The Five-O which is cold brew, cream, vanilla, coffee syrup all topped with a strawberry iced sprinkles donut. Or the one option that sounds most intriguing to me – the Reese's Nitro. It's nitro cold brew, peanut butter and vanilla syrups, chocolate drizzle, crushed Reese's Peanut Butter Cups, all topped with a Peanut Butter Explosion donut.
If you're looking for some savory bites, Everglazed has you covered too. There is a wide array of sandwiches including burgers, chicken sandwiches, and even awesome breakfast sandwiches.  Oh and also of note, Everglazed is also offering different waffle fry options too!
Want to learn more about their delectable offerings? Take a look at their menu here.
Guests who visit Everglazed will find that the overall design of the shop features pops of color, iconic signage, and a beautiful outdoor seating area called the "donut garden." In addition, Guests may catch a glimpse of the donuts being made through the windows of the exposed kitchen.
To visit this new dining establishment, be aware the the location will be initially operating with a virtual queue. To join the queue, you'll need to head to Everglazed, which is located on the West Side of Disney Springs next to Splitsville Luxury Lanes. Here you'll find a Cast Member who will help you sign up. When you get notified that it's your turn to return, that means it's time for all the yumminess you can handle!
Everglazed Donuts & Cold Brew is currently open from 9:00 a.m. until 10:00 p.m. daily.
For vacation planning information, please visit our
Walt Disney World
planning section.