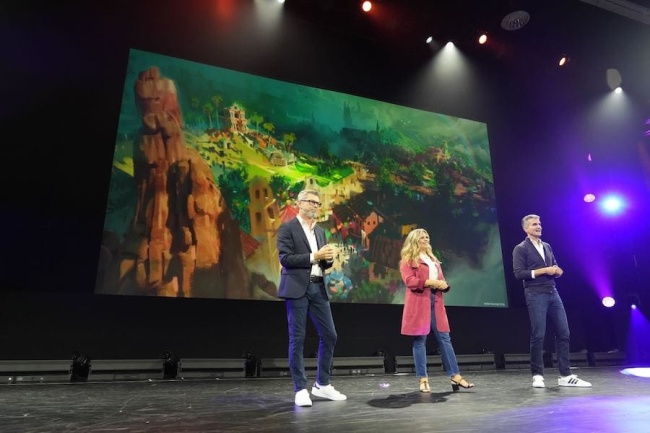 During the D23 Expo today, we all got a few glimpses into possible ideas of experiences that could be coming down the pipeline for the Walt Disney World Resort. First of all, I want to preface this with, these are NOT officially announced experiences. All of these are early concepts that are being explored for the parks. So, that means that all of these could potentially end up showing up in the parks. That also means that none of these could appear. Also, there is no official timeline for any of these things, and for those of us who have been around the block for a few years (I've been in the Disney community for over 20 years and I can't tell you the number of things that were even officially announced that never actually saw the light of day), if any of these comes to fruition, it could take upwards of 10 years or longer before we EVER see these concepts in real life.
Ok….so, with that disclaimer out of the way, during the D23 Expo, Disney Parks, Experiences and Products Chairman Josh D'Amaro brought out Imagineering Portfolio Creative Executive Chris Beatty and Walt Disney Animation Studios Chief Creative Officer Jennifer Lee. They shared a few awesome concepts for both Disney's Animal Kingdom and the Magic Kingdom.
Disney's Animal Kingdom
The first area they started with was for concepts for Dinoland U.S.A. at Disney's Animal Kingdom. If you haven't been aware, this section of the park desperately needs some TLC. You see, this area has always been a section of the park that gets a lot of flack from Disney Parks fan for feeling rather cheap. Add that issue and the fact that the Primeval Whirl coaster has officially been removed from the park. So, this area is definitely ripe for updates. And two ideas that are floating around include a section themed after the film, Zootopia. There was also as a section themed after the film, Moana. (Matter of fact, one of the pieces of concept art that they showed actually looked like an updated version of Triceratops Spin with a Moana updated.)
Magic Kingdom
The second park that they talked about was for an area of expansion beyond Big Thunder Mountain Railroad at the Magic Kingdom. Here, they discussed a couple of ideas that could potentially appear in the park. The first is a section themed after the film, Coco. It was also shared that we may, very well, see a section themed around the film, Encanto. The final section they highlighted was an area that I know has been talked about for forever. (I'm talking YEARS.) That is potentially an area celebrating favorite Disney Villains.
Again, as I mentioned, we may very well see some, all or even none of these ideas come to light. One thing is certain though – it really is fun to dream about what could be!
Follow The Mouse For Less for more information about the latest Walt Disney World theme park news, including these potential blue sky announcements.
For more Disney news and trip planning advice, follow The Mouse For Less on Facebook, Twitter, Instagram, YouTube, or TikTok.
For vacation planning information, please visit our
Walt Disney World
planning section.