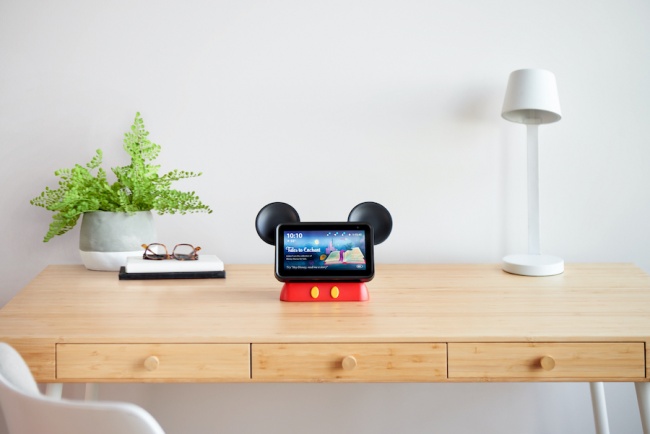 Disney and technology – they seem to go together. Whether it's things like MagicBands, the My Disney Experience app, connections with Apple, and more, the company overall tries to be on the forefront of technological advances. And today, they shared that they have partnered with another tech titan, Amazon. This technology will be beneficial whether at home OR when visiting the Walt Disney World Resort. Disney has shared that they have a brand new project with Amazon called "Hey, Disney!"
So, just what does this new partnership mean? Well, it means that Disney and Amazon have worked to create a custom assistant that uses Disney stories, characters, and more as part of Amazon's Alexa technology.
How will everything work? Soon you'll be able to use an Echo device to to interact with your favorite Disney, Pixar or Star Wars characters. And the best news is that you won't just be able to have access to this at home! You'll actually get to use this technology in your Walt Disney World Resort Hotel room too.
At the resort, you'll be able to use "Hey, Disney!" to make your vacation easier, more meaningful and more fun. If using it at home, it will entertain and delight. Hey, Disney! will showcase immersive storytelling. It will even include authentic character voices, unique audio environments inspired by films and destinations. There will be more than a thousand magical interactions to discover.
Stay tuned, because we'll have more details about how this "Hey, Disney!" technology will actually work.
For vacation planning information, please visit our
Walt Disney World
planning section.