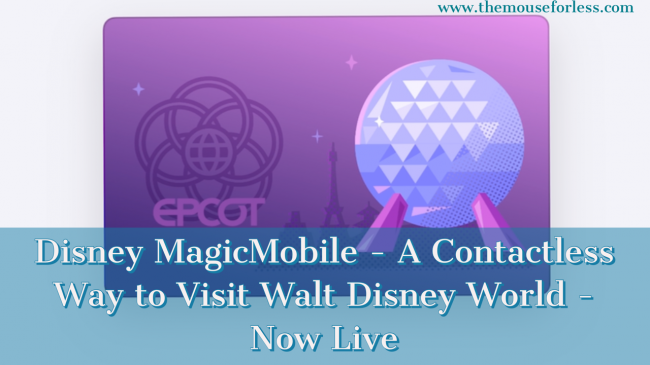 Recently Disney shared that the Walt Disney World Resort would be introducing a brand new, contactless way to visit and tour the resort. Disney MagicMobile is now live and is an easy-to-use way for Guests to experience the Walt Disney World Resort. Disney MagicMobile allows Guests the abilityto create a Disney MagicMobile pass through the My Disney Experience app. When Guests visit the resort, all they will need to do is just hold up their smart device near an access point, just like you do with a MagicBand.
This new service actually works in conjunction with MagicBands and has many of the same functionalities. This means that Guests may use the Disney MagicMobile servic or a MagicBand interchangeably for added flexibility. In addition, Disney Resort hotel guests can choose to purchase MagicBands at a special, pre-arrival price or they can even pick up a Key to the World card at their hotel's front desk.
How Does Disney MagicMobile Work?
So what can Disney MagicMobile do?
First, Guests will need to create a Disney MagicMobile pass through the My Disney Experience app. This can then be added to a digital wallet on your smart devices. Guests will even be able to customize their pass by choosing from several Disney-themed designs. (And trust me….there are some REALLY cute ones!) There are even special designs just for Annual Passholders and DVC Members! (And, for even more fun, they animate upon use!)
What about for those who have multiple family members whose passes they are in charge of? Well, the good news is that multiple passes may be stored on a single device.
How will the Disney MagicMobile work when visiting the park? To enter the parks, you'll simply need to do is hold your smart device near an access point. Yep, just like you do with a MagicBand. Plus with Express Mode on iPhone and Apple Watch, Guests do not even need to wake or unlock their device, or open up the app, to use their pass.
Other features include the ability to automatically link your Disney PhotoPass attraction photos and videos to your profile through your smartphone. Make sure that you confirm your settings in advance of riding at those specific attractions so you won't miss those memories!
The My Disney Experience app also enables Disney Resort hotel Guests to unlock their room door. This can be done by using current digital room key feature.
How Can I Create My Digital Wallet Pass?
We created this handy dandy video walk-through! Take a look at how to set up your pass!
As of right now, Disney MagicMobile is only available for iPhones and Apple Watches. The technology is coming to other smart devices in the future.
For vacation planning information, please visit our
Walt Disney World
planning section.