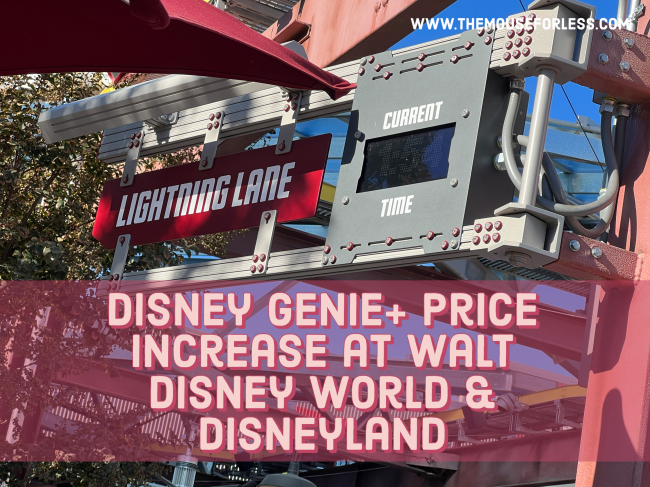 Well, it looks like Disney Genie+ has undergone a price increase at both the Walt Disney World and Disneyland Resorts.
Walt Disney World
At Walt Disney World, Disney Genie+ will actually vary in pricing, based on the date the Guest is visiting, much like theme park tickets currently do. Pricing will be lower on less busy days and it will cost you more to use the Disney Genie+ service on busier, peak days. Example pricing for the rest of this month is $15 per Guest, per day on less busy dates, $22 on some busier dates, and somewhere in between on other dates (plus tax; prices subject to change beyond October). As a reminder, single-day purchases of Disney Genie+ at the Walt Disney World Resort are only available directly through the My Disney Experience app. Also, they are only available on the day the Guest will be visiting. This same day purchase can occur starting at midnight and may be limited for any individual day.
Disneyland
At Disneyland Resort, Disney Genie+ will now be $25 per day. This will be the price when purchased in advance as an add-on with a new ticket or vacation packages. Single-day purchases can be made through the Disneyland app will begin at $25 per day. These may also vary by date, based on demand. However, now, WEB SLINGERS: A Spider-Man Adventure at Disney's California Adventure is now part of regular Disney Genie+. Previously it was an option via Individual Lightning Lane purchase.
How Disney Genie+ Works
This option allows you the opportunity to select arrival windows for Lightning Lane entrances that are available at a number of attractions and entertainment across all 4 Walt Disney World theme parks, or at the 2 Disneyland Resort theme parks. (This process is similar to how FastPass+ worked.)
Guests who have purchased this service can begin to book reservations for your first experience via the My Disney Experience app. This can be done beginning at 7:00 AM on the day of your visit. Once you've ridden your initial selection, or the arrival window has passed, you can make another selection using the app. What if you book a reservation and it's hours away? Well, you can book another reservation 120 minutes from the time of that booking. The app will let you know when you can book another reservation.
For more information about how Disney Genie+ works, click here.
Follow The Mouse For Less for more information about the latest Disney Genie+ news.
For more Disney news and trip planning advice, follow The Mouse For Less on Facebook, Twitter, Instagram, YouTube, or TikTok.