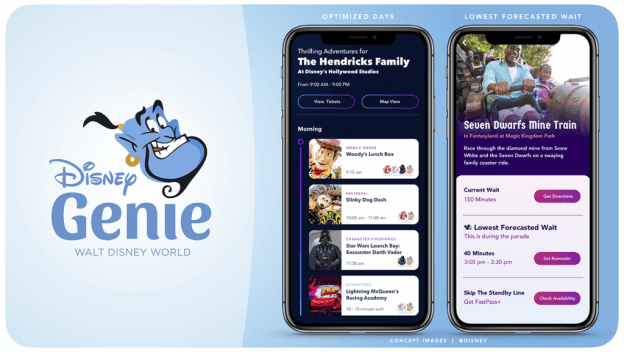 Announced at the D23 Expo was a brand new revolutionary new digital offering called Disney Genie. This tool will help enhance the way you plan for and experience a vacation to Walt Disney World Resort. This digital assistant will be designed to help you make the most out of your Walt Disney World visit, whether you're a first-time guest or a seasoned pro all by making the planning process easier.
First, Disney Genie will provide customized itineraries geared to your interests. So, you can have a foodie day or a princess-themed day, all based on your likes and preferences.
In addition, if you tell Disney Genie what you'd like to experience, it will quickly evaluate millions of options to present you with an optimal touring day. Flexibility is built into this tool because if you change your mind on your plans, you can actually re-optimize your day.
The digital offering will also be able to send you real-time tips and updates, including recommendations for experiences that it thinks you'll love. It can also help you navigate the theme parks. Disney Genie can do as much as you want it to, or as little. Much like the Genie from Aladdin does.
This tool is just another digital offering, like mobile food ordering, the Play Disney Parks app, online check-in, and more that the Disney Parks have rolled out over the past few years.
Disney Genie will debut late 2020.
For vacation planning information, please visit our
Walt Disney World
planning section.