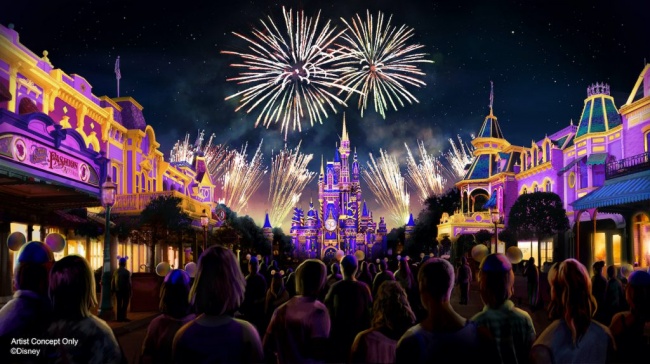 Are you ready for the newest Walt Disney World fireworks show, Disney Enchantment to debut? We have new details about this Magic Kingdom nighttime spectacular. The show will tell stories of incredible Disney dreamers.
This all-new spectacular's goal will be to inspire Guests to believe in magic. The show will include Disney music, enhanced lighting, stunning fireworks, and immersive projection effects that extend down Main Street, U.S.A.. It will also include an original song called "You Are the Magic," which is by seven-time GRAMMY-winner Philip Lawrence.
Disney Enchantment will share the stories of favorite recent Disney characters like Tiana, Miguel, Rapunzel, Ian & Barley from Onward, Moana, Raya, Judy Hopps, Joe Gardner from Soul. There will also be characters from Luca and Wreck-It Ralph. Other beloved characters from Beauty and the Beast and Alice in Wonderland will be part of the show too. And yes, good news! Tinker Bell will still take flight in an epic moment at the end of the show. (I'm sure it will bring a tear to your eye, just like it does to mine currently.)
Dozens of Disney and Pixar animated characters, moments, and music will be a part of Disney Enchantment. Disney Enchantment will help us to discover we only need to look within to find the power to believe and make dreams come true. Yep, it's true. The magic was inside us all along!
Disney Enchantment's debut will coincide with the launch of "The World's Most Magical Celebration" and will debut on October 1.
For vacation planning information, please visit our
Walt Disney World
planning section.