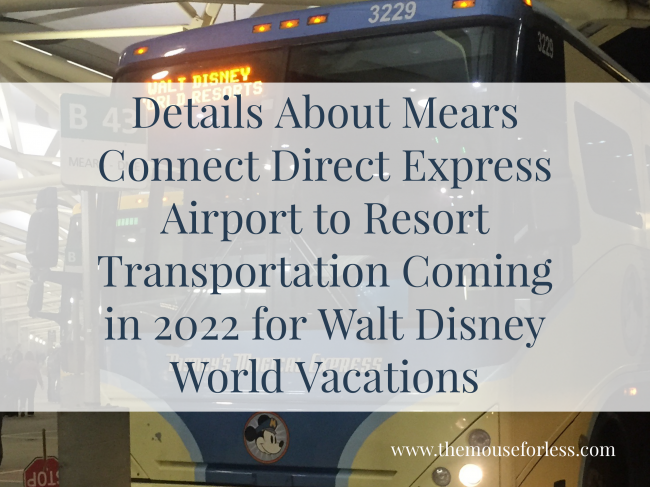 Did you miss the news that Disney's Magical Express will be ending on January 1, 2022? Ever since the news came out, people have been asking what will be the best way to get from Orlando International Airport to the Walt Disney World Resort now? It was recently announced that Mears Connect would be a new option for Guests!
Mears Connect will debut in January 2022. It's goal will be Connecting Airport & Disney Resort Area with the same reliable, safe, express service that Guests expect. (That's because Mears was actually the ones who ran Disney's Magical Express for Disney in the first place.)
What Is Included With This Service
With this new service, Guests will be able to expect:
Quick access to Mears Connect once you land.
An arrival souvenir.
Limited wait time to board.
Limited stops to your hotel/resort.
Entertainment for you and your party while you ride.
Clean, sanitized vehicles.
Spacious, comfortable seating.
Professional, friendly drivers.
Unparalleled Safety.
What Options Are Available?
There will be two different transportation options available. The Standard option and the Express option. What are the differences? The Standard option is a shared ride service on a Mears Connect (bus or van) that is economical. This option will make a limited number of stops and will have you on your way to your resort within 20 minutes of your check-in to the Mears Connect reception area. The Express option allows for direct service with limited to no wait time.
Guests will board Mears Connect on the B side, level 1 (ground transportation level). You will want to follow signs to Mears Connect to find their reception area.
How Do I Get Back to Orlando International Airport?
What about your return service back from your hotel to Orlando International Airport? For Standard service, your return transportation will be scheduled to meet you, at your resort. You will be picked up up to three hours in advance of your domestic flight's departure time or up to four hours of your international flight's departure time. Your confirmation email and 24 hour notification will supply you with the time of pick up. For Express service, your transportation will be scheduled to meet you, at your resort. It will meet you two hours before your domestic flight or three hours before your international flight.
For more details, visit their website at mearsconnect.com.
For vacation planning information, please visit our
Walt Disney World
planning section.