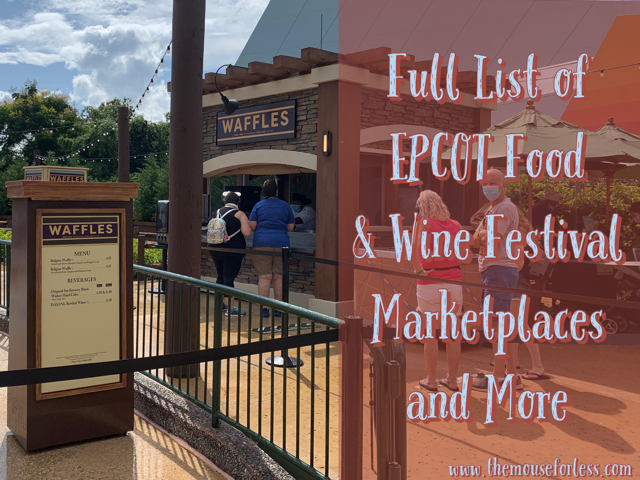 Who is ready for the EPCOT Food and Wine Festival? This year, the event begins on July 15 and will last an incredible 129 days, running through November 20. This year's event will include a number of new marketplaces, live entertainment, family events, and so much more! Plus, there is a brand new sponsor, CORKCICLE. But more on that in a minute.
Marketplaces
This year, there would be a number of marketplaces, including some great new options. Of course, fan-favorites like Hawai'i, Australia, Germany, Canada and Greece will be returning. However, new options will include Lobster Landing, Rotunda Bistro, and The Noodle Exchange.
Since this year's festival will last for a VERY long time, not all marketplaces will be available on opening day. Instead, a number of options will actually open on October 1.
Here's the full list of Marketplaces. We'll share the official menus once they are released.
The Alps – Opening October 1
Alpine cuisine, like warm Raclette Swiss cheese served with a baguette.
Australia
Sample popular Australian dishes.
Appleseed Orchard
Delicious apple creations paired with ciders and beers.
Belgium – Opening October 1
Enjoy fluffy, sweet Belgian waffles or a savory beer-braised beef dish
Brazil – Opening October 1
South American cuisine and culture
Brew-Wing at the Epcot Experience – NEW!
Picks like chicken wings and flatbreads, plus assorted beers and ciders.
Canada
Delightful dishes, lagers and wines from the Great White North.
China
Popular Chinese plates, mango bubble milk tea, draft beer and cocktails.
The Donut Box
An assortment of donuts, as well as refreshing beverages.
Earth Eats hosted by Impossible
Hearty plant-based fare featuring Impossible foods, as well as wine, chai tea or a chai tea cocktail.
Flavors from Fire hosted by The NFL on ESPN
Hearty dishes that are sure to tackle the toughest appetite.
France
Classic cuisine of France, along with assorted wines or a slushy cocktail.
Germany
Bavarian bites for foodies of all ages
Greece
Savor traditional Greek dishes like spanakopita and lamb moussaka.
Hawaiʻi
Traverse the Pacific for tropical flavors and island favorites both savory and sweet.
Hops & Barley
Stay stateside for all-American craft beer, wines and the hottest tastes from coast-to-coast.
India – Opening October 1
Spice up your life with bold Indian cuisine, like Madras red curry and Korma chicken.
Ireland – Opening October 1
Enjoy favorites from the Emerald Isle, like Irish sausage and seafood pie—which pair wonderfully with Irish ale and mead honey wine.
Italy
Savor the simple elegance of cucina italiana, with some of the world's best-loved food and wine.
Japan
Delight your appetite with sushi and other delish dishes, as well as libations from the Land of the Rising Sun.
Kenya – NEW! Opening October 1
Set off on a safari of flavor as you enjoy traditional Kenyan food and beer.
Lobster Landing – NEW! Opening October 1
Get a taste of New England as you indulge in luscious lobster creations.
Mac & Eats – NEW! Opening October 1
Discover macaroni-and-cheese combos your mom never imagined!
Mexico
Take your taste buds south of the border as you enjoy chilaquiles, tacos, Mexican craft beer and margaritas.
The Noodle Exchange – NEW!
Savor the flavors of the Far East served up in delicious noodle dishes.
Refreshment Outpost
Nibble like there's no tomorrow—stop by for satisfying snacks and beverages to go.
Refreshment Port hosted by Boursin Cheese
Satisfy your craving for comfort foods—like chicken nuggets, poutine and soft-serve ice cream.
Rotunda Bistro – NEW!
Nosh on tasty cuisine featuring fresh seafood and produce in the American Adventure Pavilion.
Shimmering Sips hosted by CORKCICLE
Get the brunch party started! Sample sweet treats and mimosas mixed with the perfect twist.
Spain – Opening October 1
Feast on flavorful Spanish foods—like paella, seafood salad and charcuterie—along with beer and wine.
The Swanky Saucy Swine – NEW!
Try out tantalizing pork dishes along with wine, beer or a cocktail.
Tangierine Café: Flavors of the Medina – NEW!
Treat your senses to traditional Moroccan cuisine, like grilled kebabs and a falafel pita.
As mentioned previously, this year's festival will be sponsored by CORKCICLE. That means that there will be a really unique souvenir you can pick up. Guests will want to visit the Shimmering Sips Global Marketplace, as well as four other locations during the event. At these locations, you will find several sparkling beverage options available for purchase. And best of all, there's an exclusive keepsake CORKCICLE premium beverage container.
EPCOT Food and Wine Festival Entertainment
Guests will still be able to enjoy great entertainment, however, unfortunately, the Eat to the Beat Concert Series won't be returning again for this season. Guests will be able to enjoy performances by Voices of Liberty (America Gardens Theatre), Mariachi Cobre (America Gardens Theatre) and Jammin' Chefs (Canada Mill Stage). The festival will also open with America Gardens Bandstand presented by Florida Blue Medicare. This will be a live-music concert series performed Friday through Monday evenings. During these concerts, local bands from across Central Florida will take to the America Gardens Theatre stage.
For Families
Families will absolutely want to take part in Remy's Ratatouille Hide & Squeak. This scavenger hunt sends Guests all around World Showcase searching for hidden statues of Remy. Guests will be able to purchase a map and stickers from select Festival merchandise locations – Port of Entry, Mouse Gear, Pin Central, or World Traveler (located at International Gateway).
Once you've found all the statues, you'll want to bring your completed map to Disney Traders, which is located at the entrance to World Showcase. Once you find them all, you'll be able to choose a surprise!
Families can also participating in Emile's Fromage Montage. Guests will be able to purchase five participating dishes, that include cheese, from select Global Marketplaces. If you collect five stamps, you can head to Shimmering Sips for a prize!
EPCOT Food and Wine Festival Merchandise
Lots of merchandise will be available for you to bring home. Best of all, there are some unique options that have been created specifically for this year's event. Items will include apparel, home décor, trading pins and more.
There will be multiple collections available. They will include EPCOT Food and Wine Festival Logo Collection, Belle Be Our Guest Collection, Remy Shake Things Up Collection, Apple Orchard Collection, and Figment Passholder Collection.
The EPCOT Food and Wine Festival is available for all Guests to experience. You will need to have valid EPCOT theme park admission and a park reservation for the same date in order to be able to experience this event.
For vacation planning information, please visit our
Walt Disney World
planning section.