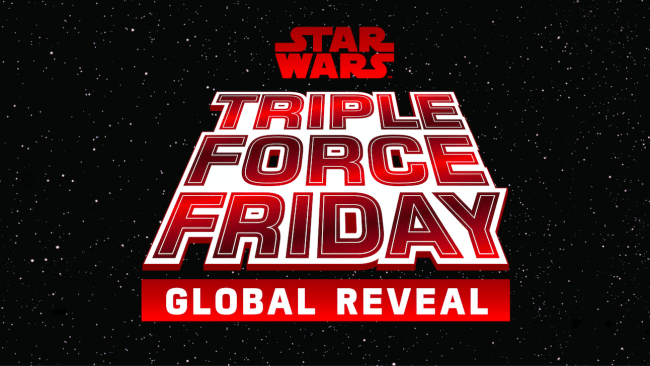 If you are a Star Wars fan, you won't want to miss the Star Wars talent that will come together tomorrow for a global livestream event on YouTube kicking off a weeklong countdown to Triple Force Friday event. Triple Force Friday will be when all the new products will be debuted for Star Wars: The Rise of Skywalker, as well as for the upcoming live-action series, "The Mandelorian" and the "Star Wars Jedi: Fallen Order" game launches begin hitting shelves worldwide. 
At 2:00 p.m. ET, fans around the world can tune in to the Star Wars YouTube page for a livestream event from Pinewood Studios in London where Star Wars: The Rise of Skywalker was filmed. Via live and recorded vignettes, an ensemble of veteran and new Star Wars celebrities will reveal new products that will roll out globally for Triple Force Friday which will occur on October 4 and is inspired by that trio of upcoming original Star Wars releases that will be coming over the next few months.
Star Wars: The Rise of Skywalker will hit theaters on December 20. "The Mandalorian" will debut in the U.S. on November 12 on Disney+. "Star Wars Jedi: Fallen Order", a brand-new action adventure game from Respawn Entertainment will be released on November 15
Star Wars talent participating in this global reveal will include: Daisy Ridley ('Rey'); John Boyega ('Finn'); Oscar Isaac ('Poe'); Anthony Daniels ('C-3PO'); Billy Dee Williams ('Lando Calrissian'); Joonas Suotamo ('Chewbacca'); Keri Russell ('Zorii Bliss'); Naomi Ackie ('Jannah'); Kelly Marie Tran ('Rose'); Pedro Pascal ('The Mandalorian'); Gina Carano ('Cara Dune' in "The Mandalorian") and Cameron Monaghan ('Cal Kestis' in "Star Wars Jedi: Fallen Order").
In addition, for those who catch the livestream, you'll be treated to the worldwide premiere of a new trailer for "Star Wars Jedi: Fallen Order,"as well as a few special surprises. 

Warwick Davis will host the livestream event. During the event, viewers will also see new characters like 'Zorii,' 'Jannah,' 'The Mandalorian,' 'Cal Kestis' and the new droid 'D-O' in product form for the first time. Fans will also get their first look at the wide array of new products that will be available including toys, apparel and accessories, books, gaming, tech and home goods. 
Take a look at this preview video and get hyped!
Force Friday is an anticipated event for Star Wars fans worldwide. Fans are invited to join the conversation on social media using Triple #ForceFriday, as well as to participate in real-world retail celebrations around the globe.
If you are looking to purchase any of the merchandise showcased during the livestream preview, select retailers in around the world, including some Disney store locations will open at midnight on October 4.
For those in Orlando and Anaheim, you'll be able to experience October 4 midnight shopping at World of Disney at Disney Springs and Downtown Disney. Disney Springs also will feature midnight shopping at The LEGO Store, along with Star Wars-themed food and beverage offerings and a LEGO Star Wars Millennium Falcon Master Build Event taking place throughout the weekend.
So make sure your watching the livestream tomorrow and get ready for the shopping fun on October 4!