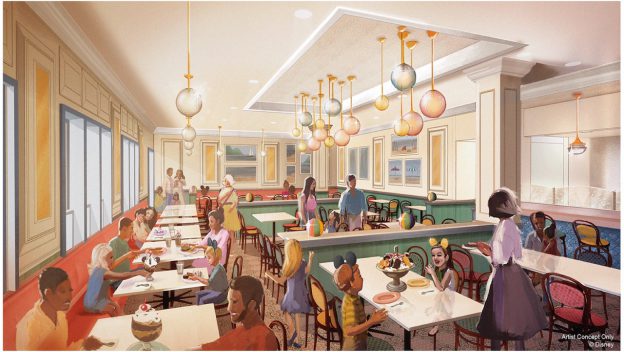 We finally have a reopening date! Beaches & Cream, which can be found at Disney's Beach Club Resort, will be reopening from its lengthy refurbishment on December 26.
When Beaches & Cream reopens, the first thing you'll notice is that the restaurant has been expanded. The restaurant will now offer more space overall, as well as a fresh new look that embraces the charm of an old-fashioned soda fountain. Throughout the restaurant you'll find subtle pops of color. Shades of teal, almond and rose adorn the walls and décor, along with accents of yellow and blue. Hanging from the ceiling will be colorful balls that are reminiscent of beach balls, while a collection of blue, amber, and pink beaded glass globes hang overhead highlighting the center of the space. Guests can also sit at a counter which will include bistro-styled barstools that are situated in front of scalloped aqua tiles and rose-colored banquettes that line the tables along the wall. There will also be a jukebox that features hits that span the decades. Finally, framed antique mirrors and artwork of Mickey and friends at the beach complete the space.
For those who don't know about Beaches & Cream is famous for their flavored sodas, malted milkshakes, hot-off-the-grill items, and of course the beloved Kitchen Sink.
New to the menu will be a Seared Salmon Filet Sandwich (with bacon aïoli, lettuce, and tomato on a house-baked multi-grain bun), a French Dip Sandwich (topped with crispy fried onions and swiss cheese and served on a toasted French roll), and a selection of loaded tots like the Sock Hop Topped with cheese sauce and green onions. There's also a plant-based loaded tots with plant-based chili, cheddar cheese, sour cream, and green onions and the Plant-Based Burger featuring a plant-based patty with plant-based mayonnaise and caramelized balsamic onion jam on a house-baked multi-grain bun.
For dessert, there will be specialty shakes and sundaes as well as seasonal cheesecake and Old Fashion Apple Pie! New for the menu will be cookie fries which comes with marshmallow cream, chocolate, caramel, and strawberry dipping sauces.
Finally, the Kitchen Sink will still be available, which includes scoops of vanilla, chocolate, strawberry, cookies and cream, and mint chocolate chip ice cream, every topping they have, and a whole can of whipped cream.
Reservations for Beaches & Cream are available now.
For vacation planning information, please visit our
Walt Disney World
planning section.