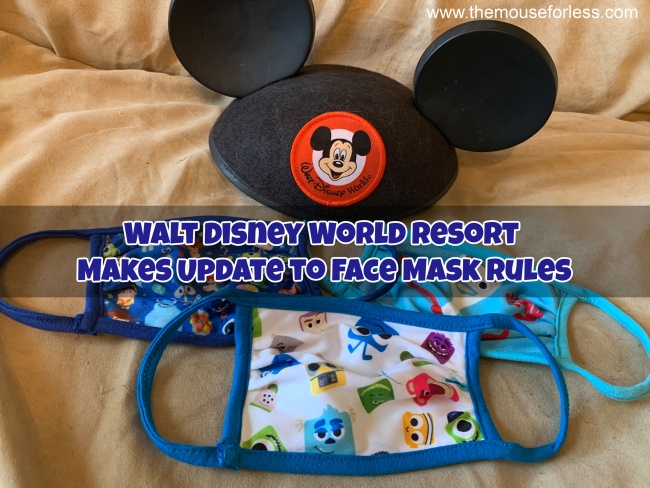 (Walt Disney World has lifted the last of its mask requirements, meaning face coverings will be optional for visitors at all locations on the central Florida Disney property.)
Due to the nature of COVID-19, things keep changing. And that includes in the world of theme parks. The Walt Disney World Resort has once again made updates to the types of face masks that will be allowed.
As a reminder, in order to visit the Walt Disney World Resort, Guests, ages 2 and up are required to wear face coverings. They will need to be worn at all times, except when dining or swimming.
All face masks (whether disposable or reusable) must:
Be made with at least two layers of breathable material
Fully cover the nose and mouth and secure under the chin
Fit snugly but comfortably against the side of the face
Be secured with ties or ear loops and allow the Guest to remain hands-free
Currently, at this time, based on guidance from health authorities, neck gaiters and open-chin triangle bandanas are not acceptable face coverings and will not be allowed as options for Guests to wear when visiting the Walt Disney World Resort. In addition, costume masks are also not considered appropriate and are prohibited from being worn. The newest updates indicate that face masks containing valves, mesh material, or holes of any kind are also not acceptable.
Disney also recently closed a loophole that allowed Guests to not wear a mask while eating and drinking. Now Guests who are eating and drinking must be stationary; they will not be allowed to walk around without mask covering their face.
Of course, while wearing a face covering is mandatory, the use of these kinds of masks are not a substitute for physical distancing. As we've seen, with this most recent update, keep in mind that this current mask policy can change at any time according to health guidelines.
For vacation planning information, please visit our
Walt Disney World
planning section.