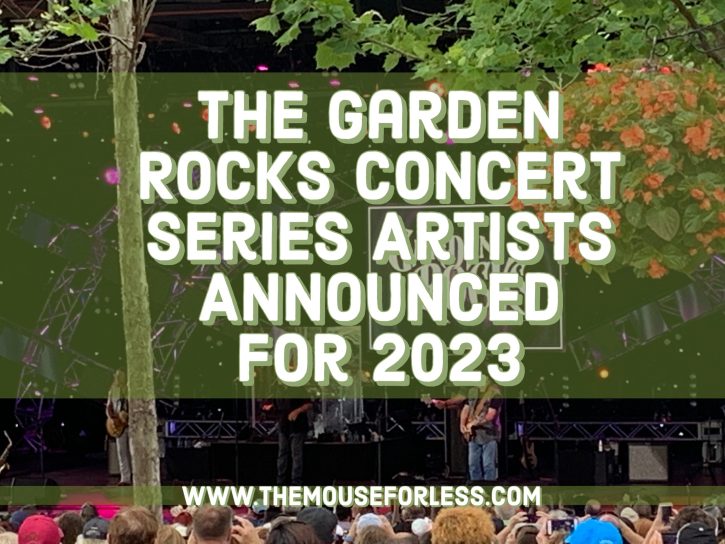 Get ready to hear some of your favorite performing artists at EPCOT this spring! The fan-favorite Garden Rocks Concert Series will be back with some fantastic recording artists performing as part of the EPCOT Flower & Garden Festival! Performances will take place each and every day at at 5:30 p.m., 6:45 p.m., and 8:00 p.m.
Artists
Here is the list of famous acts that will be hitting the stage this year:
March 3-4 – Journey former lead vocalist STEVE AUGERI
March 5-6 – Daughtry
March 10-11 – Tommy DeCarlo
March 12-13 – Smash Mouth
March 17-18 – Mike DelGuidice
March 19-20 – Blue Oyster Cult – NEW
March 24-25 – Berlin
March 26-27 – The Pointer Sisters
March 31 – Luis Figueroa – NEW
April 1-2 – Piso 21 – NEW
April 3 – TBD
April 7-8 – STARSHIP featuring Mickey Thomas
April 9-10 – Don Felder, formerly of the Eagles
April 16-17 – Switchfoot – NEW
April 21-22 – A Flock of Seagulls
April 23-24 – Jo Dee Messina
April 28-29 – Ambrosia with Peter Beckett, The Voice Of Player
April 30, May 1 – Kool and the Gang
May 5-8 – Herman's Hermits starring Peter Noone
May 12-15 – The Orchestra starring former members of ELO
May 19-20 – A.J. Croce: Croce Plays Croce – NEW
May 21-22 – Casting Crowns – NEW
May 26-27 – Jason Scheff, longtime lead singer of Chicago – NEW
May 28-29 – Rick Springfield
June 2-5 – Plain White T's
June 9-10 – The Spinners
June 11-12 – The Commodores
June 16-17 – Vertical Horizon
June 18-19 – Tony Orlando
June 23-26 – Simple Plan
June 30, July 1 – Living Colour
July 2-3 – Wang Chung
Dining Packages
If you want to secure your spot to see one of your favorite recording artists, you can book a Garden Rocks Dining Package! Guests can choose from one of a few different dining locations at EPCOT for either lunch or dinner. Guests who book a dining package will get an appetizer, entrée and dessert or one full buffet, along with a non-alcoholic beverage. (The exception will be at Spice Road Table where Guests will receive 2 small plates, a shared dessert platter and a nonalcoholic beverage.) Guests will also receive one guaranteed seat per person to one Garden Rocks concert performance on the same day. The concert time will be assigned at the time of booking.
Participating restaurants and dining package prices, which exclude tax and gratuity are:
Akershus Royal Banquet Hall 
Adult(ages 10 and up) $74.00; Child(ages 3 to 9) $48.00
Biergarten 
Adult(ages 10 and up) $60.00; Child(ages 3 to 9) $34.00
Coral Reef 
Adult(ages 10 and up) $69.00; Child(ages 3 to 9) $27.00
Garden Grill 
Adult(ages 10 and up) $66.00; Child(ages 3 to 9) $43.00
LeCellier Steakhouse
Adult(ages 10 and up) $95.00; Child(ages 3 to 9) $36.00
Regal Eagle Smokehouse
Adult(ages 10 and up) $95.00; Child(ages 3 to 9) $20.00
Rose & Crown
Adult(ages 10 and up) $59.00; Child(ages 3 to 9) $25.00
Spice Road Table
Adult(ages 10 and up) $47.00; Child(ages 3 to 9) $20.00
These packages will be available beginning on February 9 and can be booked online.
Guests may be able to purchase a same-day dining package, which allows you to dine without reservations at Regal Eagle Smokehouse: Craft Drafts & Barbecue that day and you can get guaranteed seats to a Garden Rocks performance later that same day. To check availability for same-day dining packages, visit Regal Eagle Smokehouse: Craft Drafts & Barbecue during the Festival. Packages are subject to availability and may not be available on all dates.
The EPCOT International Flower & Garden Festival will take place from March 1 all the way through July 5 at the Walt Disney World Resort! Guests must have both valid admission and a park reservation for EPCOT on the same date. More details about this year's festival can be found here.
Follow The Mouse For Less for more information about the latest EPCOT Flower and Garden Festival news.
For more Disney news and trip planning advice, follow The Mouse For Less on Facebook, Twitter, Instagram, YouTube, or TikTok.
For vacation planning information, please visit our
Walt Disney World
planning section.