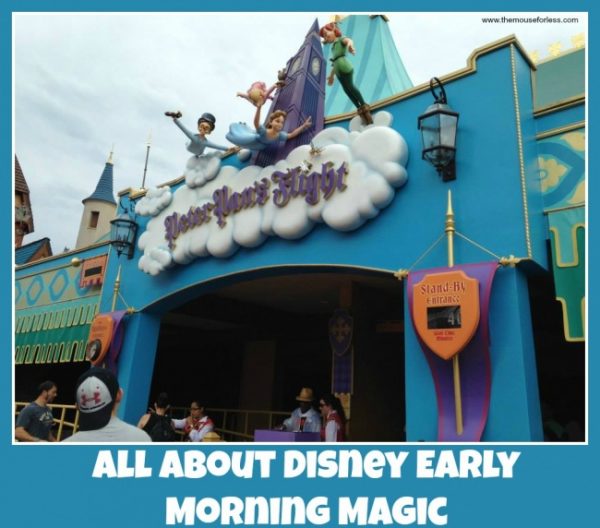 With Disney Early Morning Magic, on select days, you can be some of the first Guests in the Magic Kingdom, riding some of your favorite attractions, and enjoying a great breakfast. Make your Magic Kingdom morning more magical than ever with this limited-entry, first-access experience in the park.
Please keep in mind that Disney Early Morning Magic is not the same as Extra Magic Hours and this event is offered on different dates than Extra Magic Hours are offered.
About
Guests of all ages can be among the first to experience a trio of famous Fantasyland attractions: The Many Adventures of Winnie the Pooh, Seven Dwarfs Mine Train and Peter Pan's Flight.
In addition to taking part in some early-morning fun, you can also enjoy a fantastic breakfast at Pinocchio Village Haus. Breakfast will be available from 8:30 a.m. to 10:00 a.m. Breakfast items include:
Chilled juices, coffee and teas
Seasonal fruit and berries
Freshly baked pastries
Cheese and cured meats
Scrambled eggs with assorted toppings
Vegetable frittata
Smoked bacon
Pork and chicken sausages
Fried potatoes with caramelized onions
French toast
Assorted yogurts
Disney Early Morning Magic takes place on select Sundays and Tuesdays from 7:45 a.m. until 10:00 a.m. Official check-in will take place near the far left turnstiles of the Main Entrance to Magic Kingdom park beginning at 7:30 a.m. where Guests will receive a wristband indicating that they are a Disney Early Morning Magic Guest. Guests arriving after 7:45 a.m. should check in inside the park at Liberty Square Bridge.
Pricing
The cost is $69 per adult (ages 10 and up) and $59 per child (ages 3-9) (tax not included). Please note that regular Magic Kingdom theme park admission is required for this event, in addition to Disney Early Morning Magic admission.
Mouse For Less Tips
Around 9:00 a.m., the theme park will open to Guests with regular Magic Kingdom admission tickets and event-only attraction access will end. Our suggestion is to make sure your get your rides on the three attractions in at the beginning of the event, then eat breakfast when the park opens for regular day Guests.