The process for canceling FastPass+ reservations is relatively simple, but there are a few things to consider before making this change, as once it is made, there is no way to retrieve the cancelled FastPass+, and you will lose them.
Before cancelling your FastPass+ reservations, consider if it's really necessary.   FastPass+ reservations do not cost money.  They can be modified right up until your arrival window time opens,  quickly and easily on the FastPass+ app on your Apple or Android device or a FastPass+ kiosk located at all the Disney World Theme Parks. They can even be modified for only a portion of your party. It is often much easier to modify the time or experience than cancel. However if you are changing the park you are in for the day, or canceling your plan entirely, canceling a FastPass+ reservation makes sense.
The procedure for canceling FastPass+ reservations is very similar to making a change to a FastPass+ reservation for Disney World attractions. The steps are nearly the same except you need to select cancel rather than modify.
Canceling FastPass+ Reservations
Once you have your FastPass+ reservation open on your MyDisney Experience mobile app or website page, select view details.

Next, when given the choice, select "cancel" to cancel the reservation.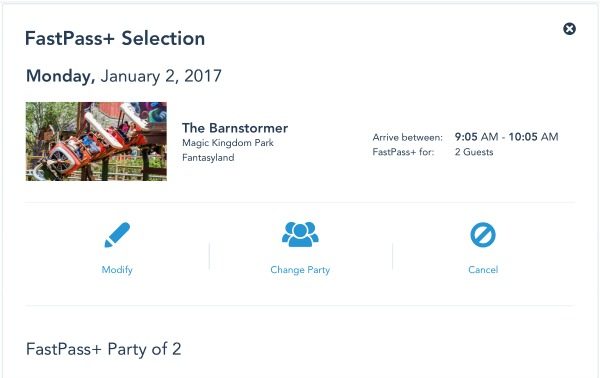 Once you select cancel, you will be prompted to confirm that this is the action you wish to take.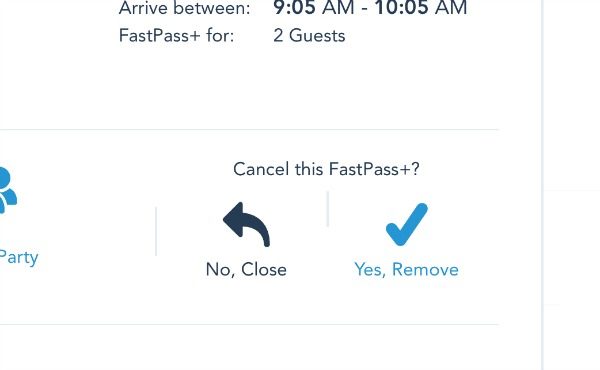 Once the "Yes, Remove" button is selected, your FastPass+ reservation will be removed from your account.
Looking for more information on using My Disney Experience, Fast Pass+ and Magic Bands?
Check these pages:
Changing FastPass+ Reservations
My Disney Experience, Magic Bands and Fast Pass+
Registering for My Disney Experience
Customizing My Disney Experience 
Adding Plans to My Disney Experience
The My Disney Experience App for your Apple or Android devices.