Disney's Hollywood Studios | Echo Lake Area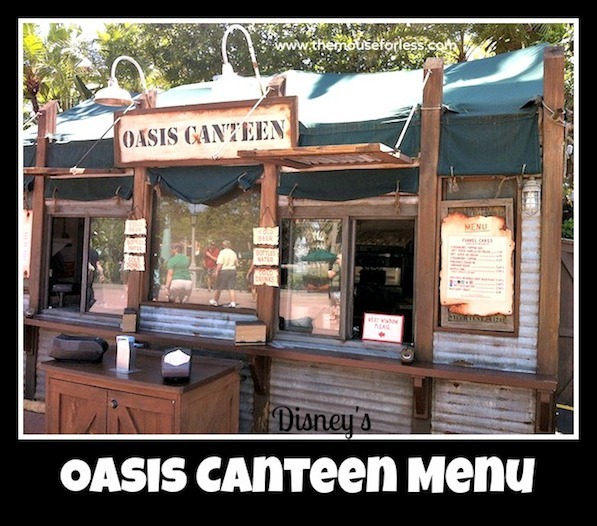 it's no mirage! Desert your hunger at Oasis Canteen. Stop by for a mouth-watering dessert or a hot and tasty funnel cake!
Restaurant Info: American, Snack, $ – under $14.99 per adult
Find out how you can save money on dining at Walt Disney World by using one of Disney's Dining Plans.
Oasis Canteen Menu
Menu Date: 08/2018
Desserts
Funnel Cakes served with your choice of:
Strawberry Topping and Soft-serve Vanilla Ice Cream – $8.49
Powdered Sugar or Cinnamon Sugar – $6.79
Cookies'n'Cream and Soft-Serve Vanilla Ice-Cream – $8.49
Waffle Cone – $4.49
Coke or Root Beer Float – $4.99
Beverages
Assorted Fountain Beverages – $3.69
Bottled Water – $3.00
Alcoholic Beverages
Bud Light – $7.50
Root Beer Float with Stoli Vanilla Vodka – $11.75
Dreamsicle Float with Stoli Vanilla Vodka – $11.75
** Oasis Canteen Menu and Prices are Subject to Change Without Notice **