Resort Restaurants | Disney's Grand Floridian Resort & Spa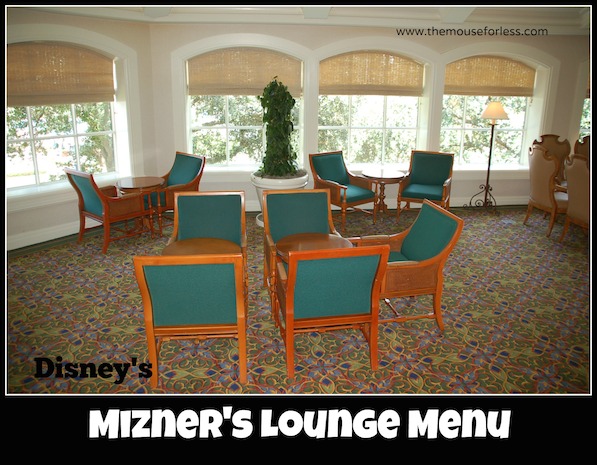 At Mizner's Lounge, enjoy live jazz standards by the Grand Floridian Society Orchestra from this upstairs bar behind the bandstand. High-end liquors are poured into classic cocktails like Manhattans and side cars. Port, cognac, scotch and snacks are available.
Restaurant Info: American, Lite Fare, Snacks, $
Find out how you can save money on dining at Walt Disney World by using one of Disney's Dining Plans.
This bar has been closed to make way for a Beauty and the Beast themed lounge. 
Mizner's Lounge Fare Menu
Menu Date: 06/2019
Appetizers available from 4:30 p.m. to 9:30 p.m. Entrées available from 4:30 p.m. to 10 p.m.
Appetizers
Chorizo Arancini – Crispy Risotto, Mascarpone, spicy Garlic Poma Rosa Sauce – $13.00
Pork Belly – Granny Smith Apple Puree, Savoy Cabbage, Apple Reduction – $17.00
Citricos Crab Salad – Avocado, Cucumber, Frisée, Arugula, and Lemon Vinaigrette – $19.00
Citricos Flatbread – Wild Mushrooms, Truffle Cheese, Tomatoes, Guanciale, and Roasted Garlic Crema – $18.00
Florida Shrimp – House-made Gnocchetti Sardi Pasta, Spicy Puttanesca Sauce, Baby Spinach, Parmesan – $16.00
Pate de Campagne – Country Pâté, Watercress, Onion Confit, Cornichons, Mustard Seeds, Focaccia – $15.00
Citricos Cheese Board Experience – Four Artisanal Cheese Pairings with Seasonal Compote, Citricos Pine Nut Cake, Savannah Bee Honey Comb, and crushed Marcona Almonds – $18.00
Desserts
Pistachio  Cheesecake – with a Chocolate Crunch Square and Blood Orange Sauce – $10.00
Baked Chocolate – Cherry tart – with Vanilla Ice Cream and handcrafted Belgian Couverture Chocolate Crown  – $12.00
Florida Key Lime Pie – Baked in a rich chocolate tart served with Fresh Strawberries and a Quenelle of Sweet Mandarin Sorbet – $10.00
Tropical Fruit Creme Brulee – with Mango and Assorted Berries – $11.00
Cocktails
The Grand 30 – Florida Palm Ridge Whiskey, St. Germain topped with Veuve de Vernay – $12.00
Florida Manhattan – Palm Ridge Small Batch Whiskey, Carpano Antica, Sweet Vermouth, Luxardo Cherry – $14.50
Golden Margarita – Don Julio Reposado Tequila, Grand Marnier, Key Lime Juice, Simple Syrup – $16.00
The Grand Cocktail – Ketel One Citroen Vodka, Pomegranate Liqueur, Cranberry Juice, Club Soda – $11.75
Purity Vodka Martini – $14.75
Grand Cosmopolitan – Purity Vodka, Grand Marnier 100, and Cranberry Juice – $12.75
Godive Chocolate – Stoli Vanil Vodka, Godiva Chocolate Liqueur, White Crème de Cacao, and Frangelico – $11.25
Old Fashioned – Woodford Reserve Bourbon – $13.00
Florida Manhattan – Palm Ridge Whickey, Antica Sweet vermouth, and Luxardo Cherry  – $14.50
Solerno Prosecco Cocktail – Solerno Blood Orange Liqeur, Orange juice, and Acinum Prosecco – $11.75
Champagnes and Sparkling
Dom Perignon, Epernay – $340.00 Bottle
Louis Roederer Cristal, Reims – $400.00 Bottle
Veuve Clicquot Brut, Reims NV – $89.00 Bottle $21.00 Glass
Domestic Beers
Budweiser 16-oz Aluminum Bottle – $7.00
Bud Light 16-oz Aluminum Bottle – $7.00
Michelob Ultra 16-oz Aluminum Bottle – $7.50
Samuel Adams – $8.00
Blue Moon – $8.00
Stella Artois – $8.00
Konig Ludwig Royal Bavarian Hefeeweizen – $7.50
Cigar City Maduro – Tampa, FL – $8.00
Orlando Blonde Ale – Orlando, FL – $8.00
Cigar City Jai Alai – Tampa, FL – $8.00
Funky Buddah Seasonal – Oakland Park, FL – $8.00
New Castle Brown Ale – $7.00
Clausthaler Premium Non – Alcoholic – $5.75
** Mizner's Lounge Menu and Prices are Subject to Change Without Notice **