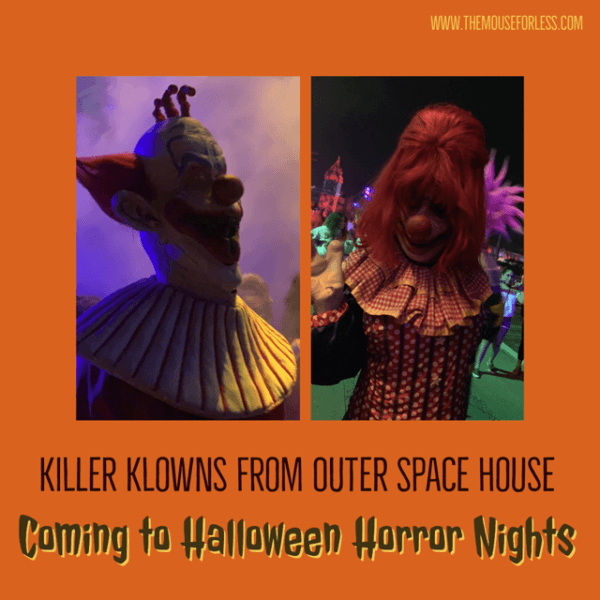 Do you have a clown fear? Then you might want to avoid this next haunted house during Halloween Horror Nights at Universal Orlando Resort. If you don't have a fear of clowns….well, just know these aren't your everyday, average clowns. No…these are the Killer Klowns from Outer Space!
That's right! The popular scare zone from last year has made its way into becoming a house this year.
During this year's house version of the cult classic film, you'll come across things that weren't featured last year, in addition so some familiar things. New characters include the baby Klowns, Boco, and Klownzilla and new scenery will include things like the Klowns' circus-tent spaceship, and the cotton candy cocoon storage room where they keep their victims.
Throughout the house your sense of smell will be in use, as you'll catch whiffs of familiar fairground fare like sweet cotton candy, stale buttery popcorn and ice cream. This is all just an illusion though, as lurking in the shadows are the murderous gang of klowns that awaits you.
Killer Klowns From Outer Space is the seventh house announced for Halloween Horror Nights 29. The event kicks off on September 6 and occurs on select nights through November 2. Tickets are now on sale.
Are you planning a vacation to Universal Orlando Resort? The Mouse For Less recommends our sponsor,
The Magic For Less Travel
. Services from The Magic For Less Travel are always free of charge when you book your Universal Orlando Resort vacation with them. Take the stress out of planning and contact
The Magic For Less Travel
.