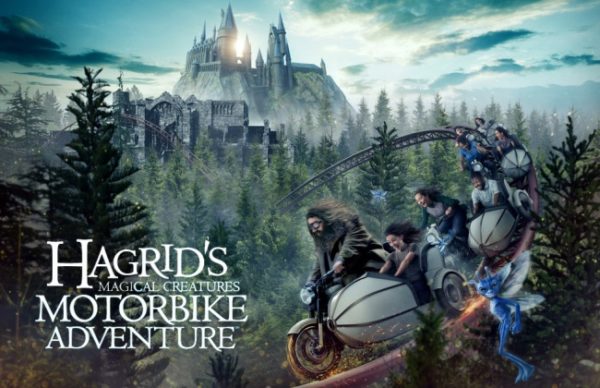 It's a little popular, don't you think? Hagrid's Magical Creatures Motorbike Adventure in The Wizarding World of Harry Potter opened less than a week ago to 10 hour waits and the lines for this attraction continue to remain high. Matter of fact, the attraction has reached its capacity for the day multiple times so far. In addition, there have been a few issues that have popped up that have caused major downtime, including weather and maintenance issues. The park has been working tirelessly to accommodate the Guests who are looking to ride the attraction, and in an effort to assist their Guests, they've been doing so beyond regular park hours.
Because of this, Universal Orlando Resort has been unable to work on the attraction, providing the daily maintenance a new attraction with this kind of sophistication requires. Because of that, and to make sure that work gets completed properly, the attraction will now be opening at midday for the next couple of weeks.
Universal released the full details on their social media. They details are as follows: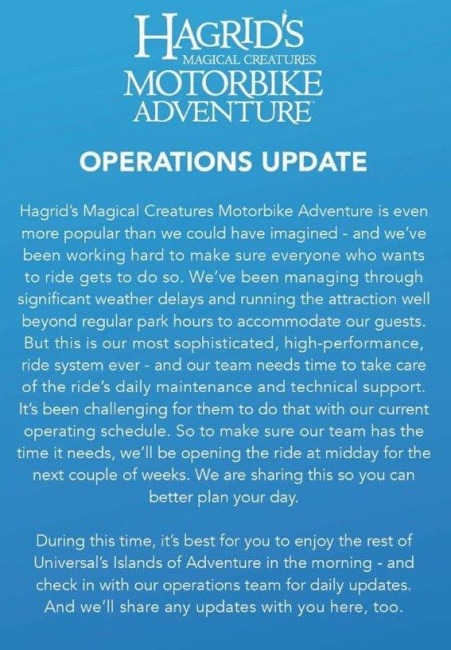 For those who have questions about this announcement on Hagrid's Magical Creatures Motorbike Adventure, the Team Members in the park will be more than happy to assist you.
Are you planning a vacation to Universal Orlando Resort? The Mouse For Less recommends our sponsor,
The Magic For Less Travel
. Services from The Magic For Less Travel are always free of charge when you book your Universal Orlando Resort vacation with them. Take the stress out of planning and contact
The Magic For Less Travel
.